The links on this page will lead you to policies in university handbooks, as well as other pieces of useful information.
Organizational Structure
MSU has three Executive Vice Presidents, who report to the President, for: Academic Affairs (Provost), Administration, and Health Sciences. Human resources, with the exception of issues related to benefits, are separate for academic and support staff employees.  Faculty and academic staff are administered through  Academic Human Resources (overseen by Suzanne Lang); support staff are administered through Human Resources (overseen by Sharon Butler).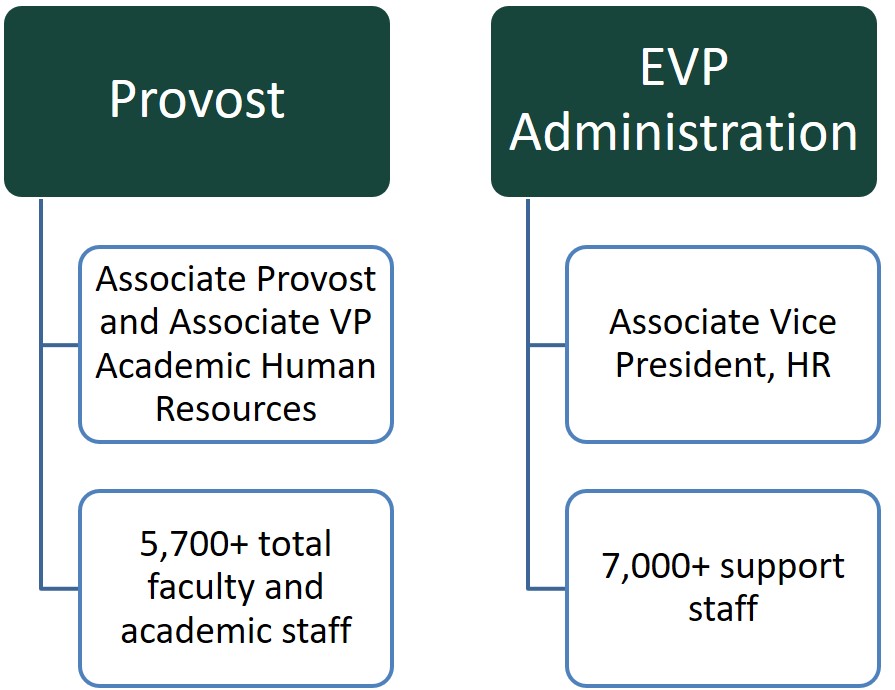 For concerns with academic employees, please contact Academic Human Resources by emailing AHR@msu.edu or calling 353-5300. For concerns relating to support staff, please contact Employee Relations by emailing hr.er@hr.msu.edu or calling 353-5510. Please also be sure to consult with the office of your dean.
Academic Freedom
Faculty Rights and Responsibilities
Additional information is available on academic freedom, as well as policies on academic tenure and governance, teaching, research and creative activities, public service, and working with colleagues in the context of the university and community.
Hiring
Faculty and Academic Staff
General Faculty and Academic Staff Hiring Information
Includes
See also
Support Staff
Ending Employment
Termination
Discipline and Dismissal for Cause
Visiting Scholars
Information for hosting individuals on a J-1 Visa
General Tenure System Policies
General Tenure System Policies
Includes Policies On
RPT recommendations at the university and college levels
Extending the tenure clock
Mentoring
Faculty review, including post-tenure review
Modified duties
Post-tenure review
Primary and joint appointments, also see the Multiple Appointment Memo
Leaves
Grievances
Evaluations
Faculty and Academic Staff Administrative Forms
Faculty and Academic Staff Administrative Forms
Contains forms for many actions, including:
Hiring
Leaving MSU
Leave Programs (e.g., sabbatical)
Pay, Rewards, and Recognition
Performance Review and Development – Fixed-term faculty and academic staff
Reappointment, Promotion, and Tenure
– Academic Specialist
– Health Programs
– Tenure System
Collective Bargaining Agreements
Unions are associated with many employment groups on campus. The UNTF covers fixed-term faculty with teaching responsibilities, and the Graduate Employees Union (GEU) covers graduate students with teaching responsibilities. Support staff at MSU are associated with nine separate groups; the Administrative Professionals Association (APA), Administrative Professional Supervisors Association (APSA), and the Clerical-Technical Union (CTU) are likely the most relevant for leaders/administrators within colleges, departments, and schools. View the contracts.
Salary Adjustments
Effort Reporting for Sponsored Projects
Misconduct in Research and/or Creative Activities
Misconduct includes plagiarism, fabrication, falsification, and other research activities that seriously deviate from accepted practices in the research community.
Procedures Concerning Allegations of Misconduct in Research and Creative Activities
Conflict of Interest
Faculty  (policies are under the Guidelines tab at the top of the page)
Relationship Violence and Sexual Misconduct
Relationship Violence and Sexual Misconduct
Harassment and Discrimination
Disability and Reasonable Accommodation
Disability and Reasonable Accommodation
Budget and Finance