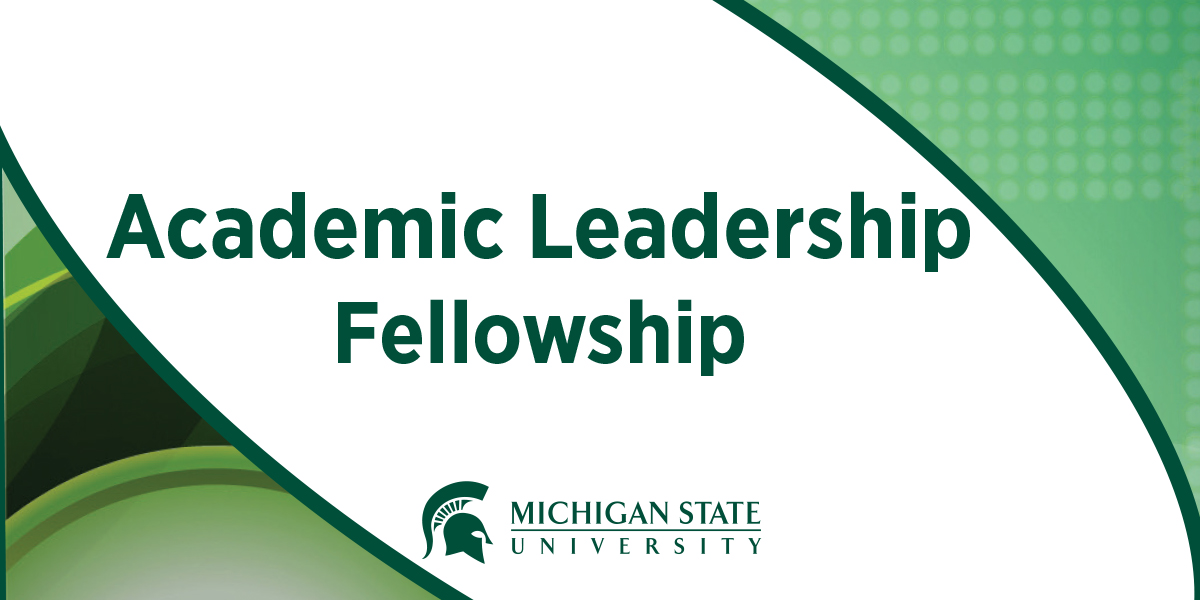 Introduction
A new initiative in the 2017-18 academic year, the Leadership Fellows program creates partnerships between mentors (current administrators) and fellows.  This program involves both a shadowing experience and work on a project developed jointly between the mentor and fellow.
This year-long experience is open to faculty and academic staff who are interested in learning about diverse leadership roles. We anticipate that approximately five fellows will be individually matched with current administrators at MSU who will serve as mentors.
Applicants should:
be appointed as a tenure-system, fixed-term, NSCL/FRIB, Library, or Health Programs faculty or as an academic specialist.
have a strong interest in learning about diverse leadership roles.
have a minimum of 10 years of faculty-level experience
Specific Goals
For the fellow: (a) first-hand exposure to academic administration to learn about operations, expectations, opportunities, and challenges related to administrative positions, as well as more general aspects of leadership; (b) personal reflection on one's characteristics and career goals to help determine whether an administrative or other type of leadership role is desired and appropriate.
For the mentor: identifying and developing future potential leaders.
For the institution: effecting change/innovation in an area of institutional priority.
Features
Partnerships between current administrators and fellows will be made based on interests, relevant experience, and goals. Pairs may come from similar or different/distant units across campus. It is expected that creating opportunities for connections between individuals with diverse backgrounds will increase the effectiveness of decision making, enhance learning, and stimulate a culture of cross-college interaction. While fellows may eventually take a leadership role in an area with greater ties to their scholarship, both they and their mentors benefit from the shared experience.
The first stage will involve the fellow and the mentor identifying desired leadership development outcomes that will frame the overall experience.  After those are established, fellows will spend approximately five hours per week during the fall semester shadowing and meeting with the mentor, gaining an appreciation for day-to-day events, offering perspective in key meetings, and debriefing one- on-one with the administrator. The fellow and mentor will then develop a project to be conducted in the spring while shadowing continues. The time commitment during the second semester will be approximately ten hours per week.
The project should be designed to facilitate the outcomes identified by the fellow and mentor and should be consistent with OFASD priorities (including, but not limited to: mentoring diversity/equity/inclusion, support for academics outside of the tenure system, innovations related to teaching or evaluation of it, and enhancing interdisciplinary scholarship). Resources, including those required to provide the fellow sufficient time to complete the project, will be negotiated between the mentor and OFASD, contingent on the scope of the work and available funding.
Approximately six-seven formal meetings (attendance is expected) for all fellows and mentors will be scheduled throughout the year. In addition, a reception will be hosted in early fall to welcome the new cohort and feature the project presentations from the outgoing cohort.
2022-23 Fellows
Learn about the MSU academics who are leadership fellows in the 2022-23 academic year.
2022-23 Mentors
Learn about the MSU administrators who are serving as mentors in the 2022-23 academic year.
2023-2024 Call for Fellows
Applications for 2023-2024 cohort are now open!
Interested fellows should submit the following via Qualtrics by Monday, May 1, 2023
Potential fellows are asked to submit the following materials:
CV (Please limit to 6 pages.)
Application Letter (2 pages maximum) explaining why they are interested in the program, what are their leadership goals they are trying to work towards and are there areas of institutional priority in which they are particularly interested in

Optional: If the potential fellow has an idea of the type of administrator they would like to work with, that can also be included here.

Support letter (2 pages maximum) from a supervisor or colleague who has observed your leadership capacity and can best respond to the following questions:

What would this individual specifically gain from participating in the OFASD Leadership Fellows Program?
What would the University gain from this individual participating in the OFASD Leadership Fellows Program?
What evidence is there that this candidate is at an appropriate stage in their career to participate in this program?
Applications will be reviewed by a committee of potential mentors and those selected to move forward in the process will be invited to interview with potential mentors.  Interviews will be scheduled during the month of May with a final selection made by the end of June.
2023-2024 Call for Mentors
Potential mentors should send a brief letter of interest or email to Cindi Leverich (youngcin@msu.edu) by May 1, 2023 and include the following:
Up to three areas of priority for the University and/or their unit in which projects might be
Acknowledgment of and commitment to the goals, as well as to the time and effort required.
Indication of ability to share financial support for the Fellow (details to be worked out with OFASD).
Information on the current fellows and mentors is available on the Leadership Fellows page. Questions should be addressed to Cindi Leverich at youngcin@msu.edu.