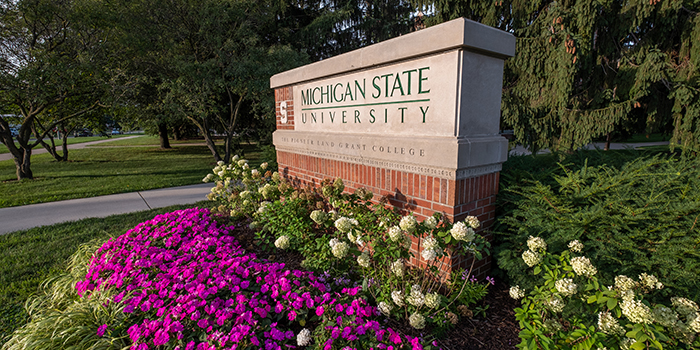 Explore possibilities within and beyond your academic role at the university. The Office of Faculty and Academic Staff Development (formerly the Academic Advancement Network) works with all faculty, academic staff, and academic administrators at Michigan State University as they join the university, establish professional trajectories, and move through various stages of review, promotion, and growth.
We recognize the diversity of experiences, interests, expectations, needs, and career stages of academics. Our goal is to provide support for our academic colleagues who are striving to create meaningful and productive professional and personal lives in alignment with – and contributing toward – the missions of Michigan State University.
Check out the upcoming Thriving Series which focuses on the different stages of an academic career.
Tenure Track: February 2
This annual workshop is designed to provide guidance to assistant professors in navigating the tenure system at Michigan State University.
Workshop objectives are to:
Expand faculty members' understanding of MSU's reappointment, promotion, and tenure procedures

Discuss approaches to documentation and record-keeping

Provide an introduction to writing reflective essays

Address common mistakes made on Form D

Provide a venue for questions and answers
Academic Specialist: February 9
This annual workshop is designed to provide guidance to academic specialists in navigating the academic specialist system at Michigan State University.
Topics include:
History, roles, appointment types, and the promotional system for academic specialists at MSU

Evaluation

Form C

Reflective essays

Tracking and documenting your accomplishments

Breakout sessions for tailored, pertinent information by appointment type
Fixed Term: February 16
The Office of Faculty and Academic Staff Development, in collaboration with the Office of Faculty and Academic Staff Affairs, will host this program for fixed-term faculty, including health programs and FRIB faculty.  This program is designed specifically for fixed-term faculty members to provide important information and strategies about being successful in their careers and their roles at Michigan State University.
Workshop objectives are to:
Discuss the changing landscape in higher education and the role fixed-term faculty have in the new climate

Clarify the nature of the various academic appointment types at MSU

Clarify expectations and set development goals

Help individuals recognize the need for mentors and suggest approaches to obtain them

Review strategies for documentation and record-keeping

Provide breakout sessions focused on policies and procedures around promotion

Provide a venue for questions and answers
Associate to Full Professor
This program is designed for and open to all associate professors in the Tenure System.
This workshop is designed to:
Clarify process expectations for attaining the rank of Full Professor in the Tenure System

Anticipate the opportunities and challenges

Inform mid-career decision-making and experiences

Review the process, procedures, and documentation
Check out these additional opportunities 
Consider the Leadership Development pathway into administration. A range of skills and responsibilities are critical to administrative roles, which commonly involve a blend of leadership, management, and service. These skills and responsibilities will form the foci for training and mentoring and will be available in a variety of formats. We focus on both enhancing the success of current leaders and cultivating future leaders at MSU. 
Research and Scholarship programming occur via collaboration with academic units locally. These opportunities are designed to help you develop and sustain your unique contributions and perspectives for the enrichment and transformation of the University and beyond. Address the areas of research development, research cultivation, and integrating research with other career domains. 
Explore the Higher Education Recruitment Consortium (HERC) free career resources to help with career planning, networking, leadership, and gain access to other professional development articles and webinars. Use your MSU NetID email to get free access. Visit member.HERCJobs.org to create a free HERConnect login or contact Maranda Holtsclaw (mholtscl@msu.edu) for more information and to take advantage of these resources!  
The National Center for Faculty Development and Diversity offers live and recorded webinars, courses, and workshops covering many topics that pertain to different stages of academic careers. Topics range from learning core skills like how to engage in healthy conflict or overcoming academic perfectionism, to various other sessions on building and leading a successful research team or developing a career as a community-engaged scholar. To receive resources at no cost to you, register with your NetID for an account linked to our MSU institutional membership by visiting the NCFDD website (external link). Creating an account allows you to register for upcoming seminars or access past documents and recorded sessions.