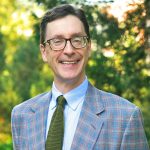 Stokes Schwartz teaches various face-to-face, hybrid, and asynchronous online courses through the Center for Integrative Studies in the Arts and Humanities at Michigan State University.  His current portfolio includes courses on topics as diverse as Contemporary Horror Cinema, Global Cinema, Feminist Cinema, Social Problem Dramas, Scandinavian Crime Fiction, and Scandinavian and Nordic Women Authors among others.  In courses like these, students examine course materials in terms of power, privilege, oppression, inequity, and justice through the intersection of race, ethnicity, gender, sexuality, class, and identities.  Starting in Fall 2023, Stokes' IAH209 Film Noir course will include a critical community engaged learning component, intended to help students participate in and reflect on their position as part of the wider society around MSU.
Stokes' research interests include assessing the effectiveness of a digital-collaborative learning pedagogy (crowd and cloud-based pedagogies) in general education courses. The approach enables instructors to motivate and engage students while at the same time helping students master course materials, practice 21st century skills, and cultivate DEI principles.  Current related projects include co-editing a special issue of The Journal of Global Literacies, Technologies, and Emerging Pedagogies on the opportunities, affordance, and challenges presented by digital-collaborative learning.  Stokes is also in the early stages of developing a co-edited book with Marohang Yakthung Limbu on global pedagogies, informed by the emergence of digital technologies and AI (artificial intelligence).  The book will examine how these elements intersect with and influence the practices of diversity, equity, and inclusion within different cultures and societies outside of North America.
In addition, Stokes hosts the weekly podcast WSTKS-FM Worldwide: Digital Collaborative Learning for the 21st Century, to assist his students each semester with their weekly digital-collaborative activities and team projects.  He is also the creator of Timely Team Tips, a series of brief animated explainer videos, designed to foster and facilitate inclusive digital collaboration between student learning team members in his courses.
A former Fulbright Scholar at the Norwegian University of Science and Technology in Trondheim, Norway during 1999-2000, Stokes' education includes degrees in Scandinavian Studies and Scandinavian Literature from the University of Wisconsin-Madison with three years of Ph.D. coursework in Norwegian Literature, completed at the University of Minnesota where he also taught the language to undergraduates.  As a result, his hidden superpower is near-native fluency in both varieties of written Norwegian plus reading knowledge of Danish, Swedish, and Old Norse.  He continues to work with Norway's myriad of spoken dialects.