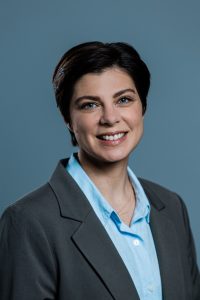 Sara Roccabianca is the Martin J VanDerPloeg Professor in Mechanical Engineering within the School of Engineering. As a faculty member, Dr. Roccabianca's goals are: to perform transformative research in the field of soft tissue biomechanics; to offer excellent education to both graduate and undergraduate students, through quality course offerings and student mentoring; and to enrich the local and broader scientific communities through their efforts in research and STEM education. In the Roccabianca Lab, both experimental and modeling techniques are used to study how soft tissues change their biomechanical behavior in response to disease, such as hypertension, diabetes, and spinal cord injury.
Dr. Roccabianca was born in Verona (Italy), where her family still lives. Dr. Roccabianca received both B.S. and M.S. degrees in Civil Engineering as well as a Ph.D. in Structural and Mechanical Engineering from the University of Trento (Italy). Dr. Roccabianca then was a postdoctoral fellow at Yale University, in the Department of Biomedical Engineering, working on cardiovascular biomechanics. Dr. Roccabianca joined MSU in 2014.
As a Lily Fellow, Dr. Roccabianca aims to lead in the creation of the first seminar series showcasing exciting recent contributions to science focused on and led by members of the LGBTQIA+ community. The ultimate goal is to contribute to offering a diverse learning experience, not just to engineering students but to all Spartans.