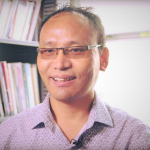 Marohang Yakthung Limbu is an Associate Professor of Writing, Rhetoric, and American Cultures at Michigan State University (MSU), USA. He received his PhD in Rhetoric and Composition Studies from the University of Texas at El Paso, USA.  He earned his MA degrees in English Literature from Tribhuvan University, Nepal and Rhetoric and Professional Communications from New Mexico State University, Las Cruce, USA with BA degrees in Education and English Literature from Tribhuvan University, Nepal. 
Marohang is a co-founder and editor of the  Journal of Global Literacies, Technologies, and Emerging Pedagogies. His monograph, Delinking, Relinking, and Linking Writing and Rhetorics: Inventions and Interventions of the Sirijanga Syllabary (2021) received the prestigious Bishnudatta-Saraswati Academic Award in 2022 in Nepal. He has published several journal articles and co-edited books, including Recovering Himalayan Cultural Rhetorics: Yakthung Mundhums, Histories, and Customary Traditions (2023) with Arjun Limbu, Integration of Cloud Technologies in Digitally Networked Classrooms and Learning Communities (2016) with Binod Gurung, Digital Rhetoric and Global Literacies: Communication Modes and Digital Practices in the Networked World (2013) with Gustav Verhulsdonck, and Emerging Pedagogies in the Networked Knowledge Society: Practices Integrating Social Media and Globalization (2013).
Marohang's current research is multidimensional and examines Himalayan cultural rhetorics, ancient Mundhum (oral) traditions, rhetorics, pedagogies, and matriarchal/matrilineal customary traditions. He also conducts long-term research and documentation projects to further the study, preservation, protection, and promotion of endangered and under-researched Himalayan indigenous traditions. To further expand DEI principles across local, regional, and global contexts, Marohang has also been learning ancient Mundhums (oral rhetorics) and rhetorical deliveries himself.  Notably, he speaks six languages, which facilitates that work.  Marohang's exploration of Himalayan cultural tradition is further informed by his extensive background in multimodal composition, cloud and crowd-based pedagogies, and culture of care pedagogy, cross-cultural communication, and translingual/multilingual communication/rhetorics as well as delinking, relinking, and linking methodology.
To share his scholarly activities with a global audience, Marohang has created the YouTube channel GLOBAL NETWORK.  He uses the platform as a public peer review space to present research and documentation initiatives, network with ya-phedangmas (shamans), tutu-tumyanghangs (male knowledge keepers), yakla-suhangs (female knowledge keepers), historians, educators, leaders, and scholars, including Western, non-Western scholars, progressive intellectuals, and cultural activists. Through this digital medium, Marohang has already been able to address multiple Himalayan epistemic, ontological, and axiological pressing issues, contributing to the (re)construction of Himalayan cultural rhetorics. Significantly, Marohang plans to use the Lilly Fellow, DEI Fellow, and MSU's Learning Community networks as launching pads for the further exploration of pedagogical blindspots and to cultivate networks that prepare students to become engaged global leaders, expand human networks, and bring about positive changes in the context of the 21st cloud and crowd-based or cyber-force networked world.