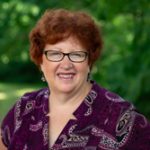 Julie Sinclair received her Ph.D. in Higher, Adult, and Lifelong Education from Michigan State University, a Master of Public Administration (MPA) degree with an emphasis in international management from the Monterey Institute of International Studies, and a BA in German language from the University of California Davis. Her research interests focus on organizational change related to internationalization of post-secondary education, good practice in international collaboration, and global learning for graduate students.
Julie has been involved in the profession of international education for more than 25 years and is committed to furthering internationalization both on her campus and broadly in the higher education world. In her current role at MSU, she works with many types of global engagement including international student and scholar support, study abroad, faculty support, international professional learning projects, and internationalization of curriculum. She has worked for several different universities in a variety of administrative leadership roles, including for 10 years as Director of International Enrollment and International Student Services at Oklahoma City University. Julie previously worked with sponsored international student recruitment at Michigan State University, which was a joint position with the Office of Admissions, the Graduate School, and International Studies and Programs.
Julie has held multiple leadership roles at the regional and national levels with NAFSA: Association of International Educators, the world's "leading organization" promoting international education and exchange within higher education (www.nafsa.org). She served as Conference Committee Chair for the 2018 NAFSA annual conference in Philadelphia, which drew more than 9,000 attendees from around the world. Julie currently serves as a member-at-large on the NAFSA board. Julie has also served as a leader with the Student Learning Framework 2030, a multi-country project of the Organization of Economic Cooperation and Development (OECD). In 2020 she was Chair of Focus Group 2A – teachers and teacher educators. She is currently co-chair of an OECD thematic group, which focuses on teacher education and professional development: aligning curriculum changes and changes in teacher education curriculum/professional development. Julie also serves as a consulting editor and reviewer for the Journal for Transformative Education.