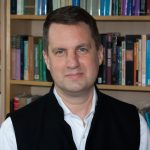 Jon Keune focuses on religion, social history and transnational flows between South Asia and East Asia.
Keune's earlier research observed the development of popular, devotional (bhakti) Hindu traditions, especially the Varkari tradition and its hagiographical literature in Marathi between the sixteenth century and the present.  His book Shared Devotion, Shared Food: Equality and the Bhakti-Caste Question in Western India considers the tension of bhakti traditions between caste hierarchy and spiritual equality.  He co-edited a volume on bhakti traditions and their many others, Regional Communities of Devotion in South Asia: Insiders, Outsiders, and Interlopers.  Keune has published many articles in journals, edited books, and encyclopedias about Hindu devotionalism, Marathi hagiography, Hindu-Christian encounters, German orientalism, and comparative hagiology.
He co-founded the Regional Bhakti Scholars Network, a platform which brings together scholars of various Indian regions and languages to explore patterns in literatures, traditions, and theologies that come under the umbrella of devotional Hinduism.  As part of this work, he co-directs a collaborative effort to develop the Bhakti Virtual Archive (BHAVA).  Keune now actively researches emergent connections that Dalit (ex-Untouchable) Buddhists in India are developing with Buddhists in Taiwan and Japan.
In the Lilly Fellows Program, Keune is working on a pedagogical toolkit for creating "modules of international presence" that can be used in classrooms to convey impactful experiences of cultural and religious diversity.