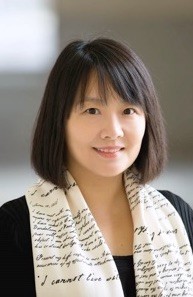 Guo Chen is an Associate Professor of Geography and Global Urban Studies within the College of Social Science, a core faculty member of the Asian Pacific American (APA) Studies Program, and an affiliated faculty member of the Asian Studies Center and ESPP at MSU. She holds a Ph.D. in Geography from the Pennsylvania State University. Her many awards include an MSU Integrative Studies in Social Science Teaching Excellence Award (2010), a prestigious Woodrow Wilson Center Fellowship, and an American Association of Geographers (AAG) Specialty Group Outstanding Service Award.
Guo's passion for leadership, teaching excellence and innovation, and the integration of teaching, research, and outreach on inequality and social justice dates back to when she first joined MSU as an Assistant Professor. As a teacher scholar and public intellectual, she has authored and co-authored over fifty publications with a focus on inequality, urban poverty, housing rights, slums, migrants, urbanization and land use, urban governance, and social and environmental justice in China, Asia-Pacific, and the Global South, including articles published in Scientific Reports, PLoS ONE, The Professional Geographer, Environment and Planning A, Urban Geography, Urban Studies, and close to twenty other academic journals. She is co-editor of Locating Right to the City in the Global South (Routledge 2013) and "Interrogating unequal rights to the Chinese city" (Environment and Planning A Special Issue), and editor of a Focus Section for The Professional Geographer titled "Hidden Geographies" featuring research articles on migration and social justice by diverse scholars. Her public scholarship includes many op-eds and webinars. Her academic leadership and service also include serving on geography/urban studies flagship journal editorial boards (The Professional Geographer and Journal of Urban Affairs), serving as ad hoc reviewer for over 45 journals, many programs and book publishers, and over a hundred organized sessions, invited talks, and conference presentations.
Guo is actively involved in leadership roles related to diversity, equity, and inclusion at MSU. She has served as an elected faculty representative on the Asian Studies Advisory Council, a founding member of the diversity committee and chair of the first standing DEI committee in her department, an elected faculty advisor for Supporting Women in Geography, and an appointed faculty member/elected Chairperson of the President's Advisory Committee on Disability Issues.
She has promoted a creative pedagogy with a critical engagement of visuals, documentaries, and simulations in nearly all of her over ten different undergraduate and graduate courses taught/designed in more than a decade, including an exit/capstone course for MSU Asian Studies Minor students and a recent Honors Research Seminar on global slums (https://people.geo.msu.edu/guochen/). She is interested in exploring Teaching for Difference: A Creative and Inclusive Module for Teaching/Learning to foster creativity expressed in different ways from our diverse students and faculty in a mutually supportive environment.