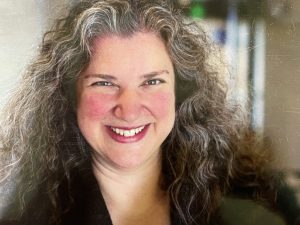 Alissa Cohen serves on the faculty of the English Language Center at MSU, where she has taught English as a second language and teacher training courses for almost 25 years.  She is currently the coordinator of the International Teaching Assistant Program, which assists international graduate teaching assistants at MSU by providing advising and support courses focused on classroom language and academic culture, and is the program developer and coordinator of the online ACES Summer Program for International Teaching Assistants, which serves 60-80 incoming international graduate students from departments across the university each summer.  Alissa has also taught on programs with Fulbright scholars and various groups of visiting English teachers from around the world and occasionally teaches pedagogy courses in the Language Learning and Teaching program at MSU.
Alissa's professional interests include promoting strategies for active learning, teacher training, and creating equitable and inclusive learning environments.  She prioritizes student autonomy and respect for linguistic variation in her teaching.  Her ongoing passion includes creating service and outreach projects that create meaningful connections between diverse groups of people both at MSU and in the greater community.  She has twice received a Creating Inclusive Excellence Grant (CIEG) for her work designing and running a mentorship program that brought international and domestic students from across the university together to share in leadership and mentoring of new international students.  She has received an Adams Fellowship and multiple fellowships from the Center for Language Teaching Advancement (CeLTA) for her outreach work promoting linguistic and cultural understanding and appreciation at local public schools.
Alissa received her B.A. from the University of Michigan in English literature and French language and her M.A. in applied linguistics from the University of Illinois in Chicago.  In addition, she completed study abroad programs at l'Université Paul Valéry in Montpellier, France and at the University of Oxford.  Alissa has taught English as a second language at the University of Illinois, University of Iowa, and at a private institute and in the public school system in Tokyo, Japan.