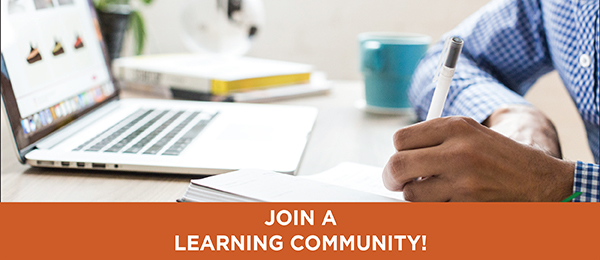 For more information, and to participate in one of the following learning communities, please contact its facilitators.
Accessibility for Teaching and Learning in Language Instruction and Beyond
Co-Facilitators
Caitlin Cornell, Center for Language Teaching Advancement, cornel28@msu.edu
Adam Gacs, Department of Linguistics, Languages, and Cultures (LiLaC), gacs@msu.edu
This learning community will explore accessibility and disability-inclusion in relation to teaching and learning in various learning modalities, beginning with lessons learned from language instruction. We will focus on such topics as creating accessible materials, checking and improving existing teaching practices, judicious adoption of technology tools, and explore disabled students' perspectives on disability-inclusion in higher education especially/particularly in language study but also in other disciplines.
Action Research in STEM Courses
Co-Facilitators
Action Research provides opportunity for educators to delve into how to use student learning outcomes to inform instruction. Educators interested in the science of learning or interested in conducting their own action research are encouraged to attend.
COIL curriculum integration for course content internationalization
Co-Facilitators
Our group proposes to share experiences and ideas on how to integrate a COIL (Collaborative Online International Learning) activity in an existing curriculum. We will take a practical approach, offering group support in all aspects of the COIL integration. Assessment of student learning and growth in cross-cultural awareness will also be discussed. If you are interested in offering a collaborative, international experience to your students, please join us.
The FLC will provide resources and support for MSU faculty interested in:
integrating a COIL activity in their current curriculum
discussing creative ways and practical concerns about COIL operation and student engagement
discussing ways of assessing COIL learning outcomes and leaner impact
Critical Community Engaged Learning: From Theory to Practice
Co-facilitators
The "Critical Community Engaged Learning: From Theory to Practice" learning community will provide a space for interested practitioners to come together to read current scholarship on critical community engaged learning (CEL) (critical service-learning), and participate in dialogue in order to collectively produce a manuscript that highlights current, and informs future, practice. Conversations will be guided by current community engaged learning scholarship as well as needs and interests of the MSU community. We hope this group will further the conversation and focus on critically informed literature that continues to enhance the connection between theory and practice.
Decolonizing the University
Co-Facilitators
The "Decolonizing the University" learning community will focus on the colonial roots that exist in our institution and our practices as educators. This learning community will explore how colonialism structures still impact our work and how they can be replaced with strategies and practices that encourage the success and whole person development of all its students, faculty, and staff.
Digital Collaborative Learning for the 21st Century
Co-Facilitators
Stokes Schwartz, Center for Integrative Studies in the Arts and Humanities, stokessc@msu.edu
Marohang Limbu, Department of Writing, Rhetoric, and American Cultures (WRAC), limbu@msu.edu
Our learning community will examine the increasing importance of digital collaborative learning for 21st-century learners, student success, and a smooth transition to global digital ecology/economy after graduation. Related pedagogical activities will include how we might utilize digital collaborative learning to a greater degree in our courses for other leading-edge pedagogical intentions. Beside the OFASD website, we will publicize our community via email at the start of the 2022-2023AY in August and September and invite interested parties to join us.
First Meeting: Friday, September 30, 2022 at 10 am via Zoom for 90 minutes (meeting ID and passcode below).  Future meeting days/times TBA according to participant needs or preferences where possible.
Recurring Zoom Meeting: https://msu.zoom.us/j/94545089588
Meeting ID: 945 4508 9588
Passcode: 851121
All who are interested in digital, collaborative, multimodal learning, and the use of technologies to enhance teaching are welcome, especially graduate students and new faculty who are interested in eventually publishing work that develops based on their participation in this learning community.
Equitable pedagogy: Removing barriers to learning
Co-facilitators
The community will read and discuss books and articles that focus on implementing equitable and humanizing practices into the face-to-face and online classroom. From there, our goal is to develop our own equitable teaching practices to integrate into our individual curricula. Members can share their efforts with the community and receive constructive feedback as we all learn to be more socially and culturally aware in our classrooms.
Feminist Community-Engagement Disrupted: Writing our scholarship stories
Co-Facilitators
Adaptability and innovation in feminist and anti-colonial community-engaged research will be vital to research, pedagogy, and co-curricular programs that support and engage both scholars and community leaders. While the changes associated with the COVID-19 pandemic and other types of disruptions can pose significant limitations to scholars who rely on building relationships within communities, they also present opportunities to cultivate methodological innovations. This Learning Community will produce writing on methods of inquiry useful to: 1) valuing different ways of knowing in scholarship, 2) mentoring in ways that center meaningful and healthy connections, and 3) enhancing community and practitioner partnerships to support networks through crises.
To learn more about this Learning Community attend our Organizing Meeting 9/21/22 from 3:00 – 5:00, where we will discuss expectations, end products, and set meeting dates for the year-long learning community.  Click here to register.
Graduate Teaching Assistant & Postdoc Teaching Learning Community (GTAP TLC)
Co-Facilitators
This Learning Community meets bi-weekly with the goal of sharing pedagogy, evidence-based best practices, holistic educator development, and accessible and inclusive student success strategies. The sessions are organized collaboratively with graduate teaching assistants and postdocs. We strive to practice a culture of care and build an inclusive community throughout the year and invite educators in any role to engage with and share their topical expertise with this group.
Learning Community for Supporting International Student Success
Co-Facilitators
Opal Leeman Bartzis, Office for Education Abroad (ISP), bartziso@msu.edu
Joyce Meier, Department of Writing, Rhetoric & American Cultures (CAL), meierjo@msu.edu
We are an assets-based group focused on the holistic concept of international student success at MSU. We collectively seek solutions for emergent, timely issues such as challenges to academic learning brought to the fore through navigation of travel restrictions, availability of technology, and online instruction in varied time zones, as well as persistent issues such as those associated with linguistic differences and varied cultural constructs of academic concepts. We share ideas and identify synergies across campus to support international students. Co-facilitators will recruit members through our personal/professional networks, the adviser listserv, the ISP distribution list, the Education Abroad and Global Youth Advancement Network newsletters, and by requesting that current learning community members spread the word.
Learning Community: How to Build an Inclusive STEM Classroom and Lab
Co-Facilitators
Improving diversity in STEM requires intentional crafting of welcoming, inclusive spaces. In this Learning Community, faculty and staff interested in creating a diverse, equitable, and inclusive classroom and laboratory will discuss concrete actions that can be taken to achieve this goal. During meetings, invited individuals from across campus will share their insights, followed by workshop-style discussions and formulation of best practices for inclusivity in STEM learning spaces.
MSU Trauma Services and Training Network (MSU TSTN)
Co-Facilitators
The focus of the Learning Community is to support, explore and develop strategies to advance a commitment to creating a trauma informed university. The work focuses on service delivery including clinical services, advising, and student support services. In addition, the Learning Community presents and trains on trauma informed teaching and developing trauma-informed communities. The MSU TSTN has developed content for use in training across the campus community. The Learning Community is open to anyone interested in working to build a trauma-informed campus.
Open Pedagogy and Open Educational Practices Learning Community
Co-Facilitators
In this learning community, participants will explore how open pedagogy and open educational practices are enabled through the use of open educational resources (OER). Participants will read works and share practices that promote open pedagogy and discuss specific approaches for improving teaching, learning, and student engagement both in-person and online environments.
Reflective Listening Practice towards Humanizing Across Differences
Co-Facilitators
The Humanizing Across Differences learning community welcomes MSU community members to participate in a reflective listening activity towards promoting reflexivity and racial healing. Additionally, we welcome members interested in working to develop an MSU specific program for fostering connection and healing through reflective listening praxis complemented by other racial healing resources and experiences that the members bring to the group for engagement. We welcome all MSU community members interested in doing self-reflective work to develop and advance their personal pathways towards racial healing and undo structures and barriers to equity.
Teaching 2030: Exploring Extended Reality (XR) in Higher Education
Co-Facilitators
Virtual Reality (VR) refers to immersive computer-generated environments (e.g., a virtual art museum) that can afford participants access to experiences often difficult or impossible to replicate in the real world. Learning community participants will examine how Virtual Reality (VR) spaces could influence teaching and learning at MSU in the future through discussion, exploration, and experimentation inside popular online VR platforms. All are welcome. While VR headsets (e.g., Oculus) can enhance the experience, no special equipment or experience are required–if you can use Zoom, you can use VR! And if you would like to borrow a VR headset, we can likely lend one to you.
Teaching and Learning in Large-Format Courses
Co-Facilitators
Eddie Boucher, Center for Integrative Studies in Social Science, bouche50@msu.edu
Brandy Ellison, Center for Integrative Studies in Social Science, belliso1@msu.edu
Large-format classes present unique challenges for all stakeholders. When instructors are asked to scale their classes to 200 students or more, there are vital considerations to make in the areas of course curricular design, learning outcomes, assignments, and assessment. This proposed learning community is envisioned as a space for educators at all levels and in varied roles across MSU to explore strategies for meaningful, inclusive, and active teaching and learning in large format classes.
Teaching for Equity and Social Justice in Medical Education
Co-Facilitators
Sean Valles, Center for Bioethics and Social Justice, valles@msu.edu
Emiko Blalock, Office of Medical Education Research and Development, blalocka@msu.edu
If you are interested in pedagogy that promotes equity and social justice and developing skills to enact this pedagogy in medical education, we invite you to join our learning community! This learning community will provide participants an opportunity to consider equity and social justice in the context of clinical decisions and identify teaching practices medical educators can utilize to teach students how to do the same. Participants will read and discuss Is Everyone Really Equal?: An Introduction to Key Concepts in Social Justice Education and engage with guest speakers to broaden their understanding of equity and social justice and identify related teaching practices for medical educators.