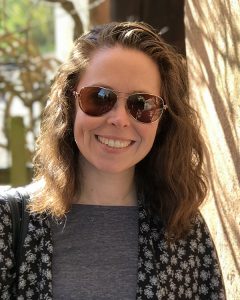 I received a BA in Sociology and Women's Studies from Gonzaga University.  I then received a MA in Applied Sociology and a Master's certificate in Women's and Gender Studies from Northern Arizona University.  My doctoral work was done in the Justice Studies program at Arizona State University. I taught both in-person and online following the completion of my Ph.D. for Arizona State University and then for Northern Arizona University.
My family moved to Michigan in June 2016 and I was hired shortly after by the Center for Gender in Global Context (GenCen) at MSU. During my first year I taught for both the GenCen and the Criminal Justice program.  I was hired full time by the Sociology department where I have been teaching since 2017. I regularly teach classes on gender and sexuality, youth and society, social psychology, society and the individual, among others.  I received the 2019 Outstanding Undergraduate Teaching Award from the Sociology Department.
My research focuses on gendered violence.  I am currently working on issues of campus sexual violence in the United States.  My work has appeared in academic journals, textbooks, and popular books. This includes such journals as The Journal of Working Class Studies, The International Journal of Criminology and Sociology and The International Journal of Multiple Research Approaches as well as a number of book chapters on various topics.