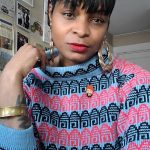 A Detroit native and resident, Dr. Jones Stanbrough is committed to teaching and empowering children and youth to speak truth to power. As a faculty member in the department of Teacher Education (TE), her teaching and work examines culture, equity, and the lived experiences of Black, Indigenous, and People of Color (BIPOC) in schools and communities. Deeply inspired by her daughter, Zuri Hudson, the Civil Rights Movement, the Harlem Renaissance, social justice activism, and generational storytelling practices – Raven's artistic and literary hankerings are inclusive of highlighting teaching with joy. This can be evidenced in her work with designing anti-racist K-12 and postsecondary course content, promoting diverse teaching toolkits for pre-service and in-service teachers, facilitating urban debate league workshops, hosting storytelling events, and organizing national conference sessions that dismantle racist and oppressive teaching standards and practices in curricula and schooling. Prior to earning her doctorate at Michigan State University (MSU), she served as a classroom teacher in Detroit.
Dr. Jones Stanbrough's publications and service have been recognized by the American Educational Research Association, The Journal of Higher Education, National Public Radio, Alternatives for Girls, The Detroit Public Library, the English Education Journal, The Museum of Contemporary Art Detroit, and other organizations. Additionally, Raven has been the recipient of the Grace Lee Boggs Center to Nurture Community Leadership fellowship, the Andrew W. Mellon Foundation's Democratizing Knowledge Institute fellowship, the Martha's Vineyard Institute of Creative Writing fellowship, the Ford Foundation, and the Fulbright-Hays Program, where she examined students' experiences and attitudes with language and literacy in urban and rural Tanzania. Likewise, she has received the Excellence in Diversity Award from MSU and the Early Career Educator of Color Leadership Award from the National Council of Teachers of English.
For over 20 years, Raven has honored her village and ancestors through her spiritual obituary writing and homegoing service readings. Within the TE department, she has taught: TE 291a (Special Topics in Urban Education), TE 301 (Literacy Learners & Learning in Context – Elementary), TE 302 (Learners & Learning in Context – Secondary), TE 448 (Issues of Diversity in Children's and Adolescent Literature), TE 501 (Intern Teaching, Diverse Learners, I), TE 502 (Intern Teaching, Diverse Learners, II) TE 801 (Professional Role & Teaching Practice I, Literacy), TE 803 (Professional Role & Teaching Practice, II, Social Studies), and TE 846 (Accommodating Differences in Literacy Learners), and looks forward to collaborating with more children, students, parents, and scholars. Dr. Jones Stanbrough is deeply enamored with her family and friends, The Zuri Reads Initiative, Scrabble, tacos, and her K-12 Detroit teachers.