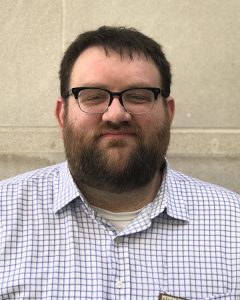 Dustin DuFort Petty has been the Academic Advisor for the Bailey Scholars Program since 2013.  He also serves as a course instructor for the program.
Dustin earned his BS from MSU in Agriculture & Natural Resources Communications. He worked for two years in Chicago for Chicago Public Schools, working with the 15,000+ population of homeless K-12 students as a Student Advocate.  At MSU, he's also taught for the Institute of Agricultural Technology.  In addition to his work in education, he's also co-authored two books, Michigan FFA: A Legacy of Great Lakes Leadership and The New Bullying. 
In May 2019, Dustin earned his MA in the MSU Higher, Adult, and Lifelong Education (HALE) program. 
Dustin is passionate about advising and teaching and learning, helping his students develop their capacity as leaders and learners while practicing whole-person development.
When not working or studying, he can be found baking something, reading something, or practicing genealogy.  His favorite place on campus is the Beal Gardens.