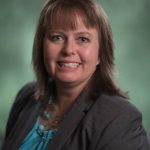 Kelley Blanck is an Instructor for the School of Social Work. Kelley earned her B.A. degree in Psychology from Oakland University in 1994, and her MSW degree in Social Work from Michigan State University in 1996.
Kelley worked for 20 years in the public mental health field, at both the clinical and macro levels. Prior to returning to MSUSSW as an instructor in 2016, she worked clinically in youth foster/adopt/post adoptive care, adolescent residential, and adult supported employment.  Her macro areas of administrative specialty include grant writing, strategic planning, focus group facilitation, program development, and data analysis.  In addition, she is a certified Trauma Trainer, with a particular focus on foster/adoptive trauma exposure, trauma informed practices in organizations, communities, and teaching/learning spaces.
Since joining the School of Social Work as a fixed-term instructor, Kelley has consistently sought opportunities to build and grow her teaching skills. She is the OCL/Macro Sequence Chair, leading the school in curriculum design for this study track. She successfully completed the College of Education's Micro-Credential in Online Learning in 2020, using the skills learned to transform her online/D2L classrooms into visually engaging, interactive modules, mixing reading, video, linked outsources and other responsive elements to pull students into the learning process. She has dedicated her teaching and learning focus on student success, with particular emphasis on innovative online engaged platforms, creating accommodations that reflect trauma-informed practices, elevating student voice and bringing real-life application into the classroom.