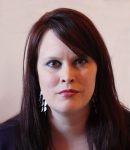 Karen Kangas-Preston is a Senior Academic Specialist—Teaching in the Department of Theatre with extensive experience in costume design, construction, and stage makeup. She holds a Master of Fine Arts in Costume Design from Illinois State University and a Bachelor of Fine Arts in Theatre Design and Technology from the University of Minnesota-Duluth. In addition to teaching all costume-related courses, she serves as the MFA Design Program Director and has been leading the successful Theatre in London/Exploring British Theatre program since 2008.
Karen has developed several courses at both undergraduate and graduate levels. Areas of specialization include costume design and production, global costume history, drawing and painting techniques, and stage makeup. Additional coursework in British theatre history, dramatic literature, theories of acting, voice and movement, and period styles have been taught as part of the London education abroad program.
Karen's costume designs have been seen at Meadow Brook Theatre, Williamston Theatre, and Tipping Point Theatre as well as for the MSU Department of Theatre and its Summer Circle Theatre. Additionally, her work has been exhibited at several national conferences.
Karen is a 2019 recipient of the MSU Distinguished Academic Staff Award, a 2018 recipient of the College of Arts and Letters (CAL) Fixed-term & Academic Specialist Excellence in Leadership Award, and a 2021 recipient of the International Studies & Programs Outstanding Service to Education Abroad Award. She currently serves on the Academic Specialist Advisory Committee and the CAL Taskforce for Non-tenure Track Pathways where the team's project on Reimagining Non-tenure Stream Faculty and Academic Staff Evaluation & Career Pathways at MSU was chosen as part of the Provost's Academic Strategic Plan.