2018 MSU Teaching & Learning Spring Conference: Tuesday, May 8
Tweet along! Share insights, notes, pictures, and reflections on Twitter by using the hashtag #ITeachMSU throughout the conference.
Please check in outside D-101 before evening events.
Reception and Poster Session
Date & Time: Tues., May 8, 4:30-5:30 p.m.
Place: Room D101 and main hallway of Wells Hall
Keynote Presentation
Date & Time: Tues., May 8, 5:45-6:30 p.m.
Place:  Wells Hall, Room B119
Presenter: Beronda Montgomery, MSU Foundation Professor, AAN Research, Scholarship, and Creative Activity Node Leader
Title: Re-envisioning Mentoring as Learning: Promoting Growth, Reciprocity, and Success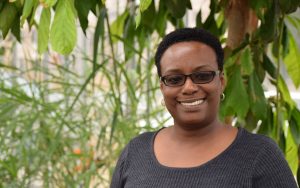 Description: Mentoring is often positioned as the transfer of information from an experienced, senior individual (or mentor) to a junior, inexperienced individual (or mentee). Implicit in this description are the ideas that at the core of mentoring is a process of teaching – to guide, instruct and train – and that mentoring may largely be a one-way flow of information. Increasingly, however, mentoring is being understood as a process best facilitated through a bilateral exchange and flow of knowledge and learning between individuals in a mentoring exchange. In this evolving conceptualization and practice of mentoring, both mentor and mentee are positioned as learners and teachers. In this presentation, I explore effective means of cultivating mentoring as a place of collaborative learning and reciprocal cultivation that promotes the growth and success of all involved in the mentoring process.
Panel: What does teaching for student success mean to me?
Date & Time: Tuesday, May 8, 6:30-7:00 p.m.
Place: Wells Hall, Room B119
Moderator: Provost June Youatt
Panelists:
M. Isabel Ayala,  Assistant Professor, Department of Sociology and Chicano/Latino Studies Program
R. Sekhar Chivukula, Professor of Physics; Associate Provost for Undergraduate Education; Dean of Undergraduate Studies
Teena Gerhardt, Associate Professor, Mathematics Department
Jasmine Lee, Neighborhood Director, Advising Lead, East Neighborhood
Danielle M. Lopez, Assistant Director of Student Success, Biological and Physical Sciences-Interdepartmental Advisor
Randy Rasch, Dean and Professor, College of Nursing
Chezare A. Warren:  Assistant Professor, Department of Teacher Education
Poster Presentations
Place: Posters will be located in the main hallway of Wells Hall
A Feedback Curriculum for the Department of Veterinary Medicine: A Needs Assessment
J. M. Monica van de Ridder
Accessibility and Preparation: Lessons Learned in the Classroom
Dustin De Felice, Caitlin Cornell
ACT to SAT: What the Switch Means for Our Students
Drew Trotter
Acting in Immersive Theatre
Rob Roznowski, 2017-18 Lilly Fellow
All Lectures Complete… But The Course Is Not!
Martha Faner, Carol Wilkins
Avoiding the Sophomore Slump
Tonya Bailey, Scott Fitzpatrick, Sara Bartles
Broadening Access to Honors: A Revision to the Academic Scholars Program through Support of First Gen and Pell Students
Bess German, Justin Micomonaco, Christine Raisanen
Building Community: Connecting 2nd Year Spartans to Campus
Ray Gasser, Sue Webster
Characterizing Scientific Practices, Crosscutting Concepts, and Core Ideas in Science Assessments
Becky Matz
College of Social Science Academic Probation Rate Trends – Update
Brandy J. Ellison
Collegiate Recovery Community: Promoting Wellness and Transforming Lives
Emily Young, Taylor Struna
Connections That Count
Mary Beth Heeder, Dan Watson, Lorelei Blackburn
Correlates of Student Quiz Submission Time Variability
Danielle M. Kaminski, Vincenzina Caputo, James Hilker
Cultivating TA Habits of Mind In Support of Student Success: A Partnership between the Graduate School & Office of the Associate Provost for Undergraduate Education
Madeline Shellgren, Melissa McDaniels
The Effect of Required Homework on Student Performances in Flipped Immunology Class
Ahrom Kim
Effects of Recitation Sections on Student Success in ISS 200 Level Courses
Jeff Ericksen
Empowered Mujeres, Empowering Mujeres: Reflecting on Assessment and Engagement for Student Success
Aleida Martinez, Danielle M. Lopez, Erica Fiasky
Engaging Students in Social Justice through Art
Amber Benton, Veda Hawkins, Phillip Seaborn
Evidence for Predicting Teaching Practices in Early-Career Biology Faculty
Nathan Emery, Diane Ebert-May, Jessica Middlemis Maher
Faculty and Student Conceptions on Student Centered Active Learning and Teaching: A Quality Initiative Project
Emily McIntire, 2017-18 Lilly Fellow
Faculty, Staff, Student, and Ethical Issues in Learning Analytics
2017-2018 Analytics Learning Community
Feedback and Formative Assessment
2017-2018 Learning Community on Feedback and Formative Assessment
Gamifying Thrones: Making Students Heroes in Their Own Arthurian Adventures
Margot B. Valles, 2017-18 Lilly Fellow
Improving Critical Thinking and Writing through Literature Review in a Greenhouse Production Course
Kellie Walters, Roberto Lopez
Leveraging Linguistic and Cultural Diversity as Resources for Teaching and Learning in a Preparation for College Writing (PCW) Course
Steven Fraiberg, 2017-18 Lilly Fellow
Mad at MSU:  Learning community on accessibility focuses on mental disabilities in academia
2017-18 Learning Community on Accessibility through Creative Innovation
Making an IMPACT: A Service-Learning Program for Incoming First-Year Students
Andrew Murray, Erika Trigg Crews
Metacognition and Critical Thinking of First Year Medical Students
Migdalisel Colon-Berlingeri, 2017-18 Lilly Fellow
Outcomes for Students in Limited-Enrollment Programs
Abram Huyser-Honig
Performance, Comfort Level, and Confidence in Novice Veterinary Students after Training on a Bovine Paravertebral Nerve Block Model
Jennifer Roberts, 2017-18 Lilly Fellow
Spartan Sage: Student Data Discovery Tool
Jeff Kodysh, Danielle Barnes, Sue Webster
Spartans Will Completion Grants: Purpose, Implementation, and Short Term Results
Renata Opoczynski
STAR Lite! Start Right!
Charlie Liu, Chelsea Belote, Jianyang Mei, Elizabeth Matthews
Student Parent Support = Two-Generation Success
Kimberly Steed-Page
Undergraduate Research: Emerging Scholars Program
Lizzy King
Wellness Coaching: Optimizing Wellness for Student Success
Kristin Traskie, Kevin Bator