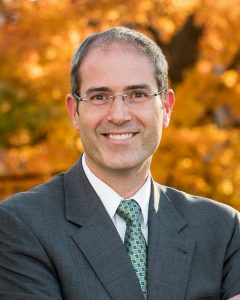 Christopher P. Long is an MSU Foundation Professor, Dean of the College of Arts & Letters, Dean of the MSU Honors College, and Professor of Philosophy at Michigan State University. Recognized for values-enacted leadership, Dean Long is committed to the transformative power of liberal arts research and teaching by enriching graduate and undergraduate education, advancing equity and inclusive excellence, recruiting and retaining world-class faculty, and creating new opportunities for collaboration among community partners.
He began his tenure as Dean of the College of Arts & Letters on July 1, 2015. Under his leadership, several advances have been made to help raise the College's international reputation including the creation of the new Department of African American and African Studies, the Center for Interdisciplinarity, the Citizen Scholars program, the Critical Diversity in a Digital Age initiative, and the Excel Network. He also has established the College of Arts & Letters as a catalyst of innovation and collaboration at MSU through signature partnerships with the MSU Libraries to create the Digital Scholarship Lab and with the Broad College of Business and the College of Natural Science to create the Enhanced Digital Learning Initiative (EDLI).
On July 1, 2021, he assumed additional leadership responsibilities as the Dean of the MSU Honors College where his priorities are to enhance the quality of the student experience, recruit and retain a wide diversity of high-performing students, and engage alumni and friends in strategic philanthropy that will elevate the leadership position of the Honors College.
An advocate of public scholarship, open access, and digital approaches to scholarship and pedagogy, Dean Long has frequently written about the benefits of using digital modes of communication to enable public education, scholarship, and collaboration. He also discusses these issues in his Digital Dialogue podcast, the MSU Liberal Arts Endeavor podcast, and the Long View blog.
He has secured over $6M in funding from the Mellon Foundation as a Principal Investigator to support the Less Commonly Taught and Indigenous Languages Partnership, the HuMetricsHSS initiative committed to rethinking humane indicators of research excellence in the humanities and social sciences (HSS), and the Public Philosophy Journal, an open forum for the curation and creation of accessible scholarship that deepens our understanding of issues related to public relevance.
An expert in both ancient Greek and contemporary continental philosophy, Dean Long's extensive publication record include four books: The Ethics of Ontology (SUNY 2004), Aristotle On the Nature of Truth (Cambridge 2010), Socratic and Platonic Political Philosophy: Practicing a Politics of Reading (Cambridge 2014), and Reiner Schürmann and the Poetics of Politics (Punctum 2018).
Dean Long received his MA and Ph.D. from the New School for Social Research in New York and BA from Wittenberg University in Springfield, Ohio. Prior to coming to MSU, he was Associate Dean for Graduate and Undergraduate Education and Professor of Philosophy and Classics in the College of the Liberal Arts at Pennsylvania State University.
To learn more about Dean Long's administrative approach and his research in philosophy, digital scholarly communication, and higher education, visit his website: www.cplong.org or his Humanities Commons profile. You can reach him on Twitter @cplong.