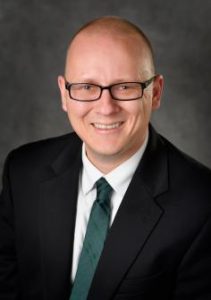 Dr. Peter Savolainen is an MSU Foundation Professor and Interim Chair of the Department of Civil and Environmental Engineering (CEE). Prior to this role, he served as Associate Chair for Graduate Studies, as well as founding chair of the CEE Awards Committee. He also chaired the College of Engineering Strategic Planning Committee and was selected as a 2022-2023 Academic Leadership Fellow, where his project focused on MSU's transition to a new Student Perceptions of Learning Environments Policy (SPLEP) and an associated Student Perceptions of Learning Survey (SPLS).
Dr. Savolainen's core research examines the fundamental nature of road user behavior, particularly how traffic safety and operations are influenced by driver behavior. His work has advanced fundamental knowledge as to how roadway design, traffic conditions, environmental factors, and various types of distractions affect the risk of crash involvement. During his academic career, Dr. Savolainen has secured more than $20 million of externally funded research through competitive grant awards from agencies including Ford Motor Company, the Federal Highway Administration (FHWA), the National Cooperative Highway Research Program (NCHRP), the National Science Foundation (NSF), and the second Strategic Highway Research Program (SHRP 2).
Dr. Savolainen currently serves as Director of an NSF Research Experiences for Undergraduates (REU) Site in Sociomobility, which is focused on investigating the societal impacts of connected and autonomous vehicles. He leads a university-wide multidisciplinary research group focused on this topic area, which was recognized with the 2022 Innovation in Education Award from the Institute of Transportation Engineers (ITE) Transportation Education Council. His efforts have also been recognized by a series of best paper awards, as well as by ITE with the 2020 Transportation Safety Council Edmund R. Ricker Award for leadership in the field of traffic safety. Dr. Savolainen is an Associate Editor of the American Society of Civil Engineers (ASCE) Journal of Transportation Engineering, Part A: Systems. He also serves on the editorial advisory boards of Accident Analysis and Prevention and Analytic Methods in Accident Research, as well as on the Transportation Research Board (TRB) Standing Committee on Safety Performance and Analysis. He is a registered professional engineer in the state of Michigan.