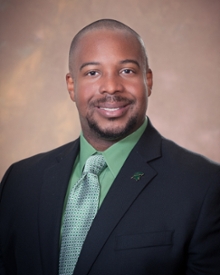 Terrence Frazier is currently serving as a Special Assistant to the Vice President and Chief Diversity Officer at Michigan State University. Frazier has presented at several regional and national conferences and across numerous college campuses, speaking on a range of topics: Diversity, Leadership, Relationships and Fraternity, and Sorority Life.
Prior to MSU, Frazier was the Associate Vice President of Student Affairs at Alabama A&M University. There, he was the Senior Conduct Officer and Deputy Coordinator for Title IX providing oversight on all matters pertinent to student safety concerns. He also served as the Principal Designated School Officer and Responsible Officer for any concerns with international student success. He was responsible for the Student Health and Counseling Services as well.
Prior to AAMU, Frazier was the Director of Multicultural Affairs for Stephen F. Austin State University in Texas. There, he successfully restructured the Office of Multicultural Affairs by establishing and rebuilding relationships across student affairs, academic affairs, and athletics; implementing collaborative programming that engaged students in their holistic development; and working with alumni to establish an endowment scholarship for students.
Additionally, he has worked at Iowa State University and Ball State University as Interim Director of Greek Affairs and Assistant Director of Student Organizations and Activities, respectively.
While at Iowa State, Frazier earned his doctorate in Educational Leadership and Policy Studies. His dissertation research topic was: "African American College Men Holding Leadership Roles in Majority White Student Groups."