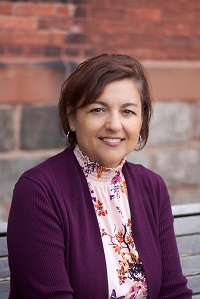 Melissa Del Rio is the Chief of Staff of the Graduate School at Michigan State University. In The Graduate School, Melissa leads a team that provides support, direction, and resources to graduate students and the MSU community. The Graduate School has identified as strategic goal priorities in Diversity, Equity, and Inclusion initiatives, and Melissa is a campus leader in this area. She serves as a Core Team member of the MSU Institutional Diversity, Excellence, and Action (IDEA) Coordinators Committee, and as a co-coordinator for the MSU Women of Color Community, an inclusive community that serves women of Black, Arab, Asian, Chicana, Latina, Native, Indigenous, Pacific Islander, and biracial/multiracial identities.
Melissa currently serves as the functional lead for two university projects: Student Information System (SIS) Implementation Project and the Admissions Customer Relationship Management Tool Implementation Project. In addition to her leadership role on these projects, she sits on the Steering Committees to guide implementation of these campus-wide systems. These roles allow her to ensure the graduate education is incorporated into the functionality of these systems.
Melissa has been an employee with Michigan State University since 1993.