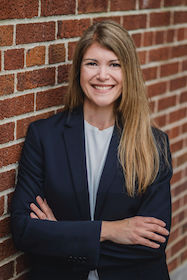 Dr. Bree Holtz is an accomplished associate professor in the Department of Advertising & Public Relations and serves as the Director of the College's Center for Teaching and Learning at the College of Communication Arts and Sciences, Michigan State University. As a dedicated academic, she holds the position of vice-chairperson on the University Faculty Affairs Committee and is honored to be a ComArtSci Brandt Fellow for Faculty Excellence.
Her research expertise is investigating the adoption, perceptions, and outcomes of various health-related technologies, including telemedicine, mobile phone health apps (mHealth), consumer-grade sensors like Fitbit and Apple Watch, electronic medical records, AI, and social media for health topics. At the core of her work, Dr. Holtz focuses on the intersection of health communication, information communication technologies (ICT), and promoting healthy behaviors through persuasive strategies. Within this domain, she displays particular interest in the adoption of consumer health technology, telehealth services, and artificial intelligence (AI) in health communication.
With a mission to enhance health outcomes and individuals' quality of life, Dr. Holtz has amassed a successful track record of mixed-methods research. Her achievements include publishing 47 peer-reviewed articles, authoring five book chapters, and presenting her work at numerous conferences and invited talks. Moreover, she demonstrates exemplary skills in securing research funding, having obtained over $2.5 million in awards as the Principal Investigator (PI) or Co-Investigator (Co-I) for various internal, foundation, and federal proposals.
Dr. Holtz's dedication to teaching and research has also been recognized, receiving accolades such as the Faculty Impact Award, Adams Academy Teaching Fellow, and the prestigious Teacher-Scholar Award from Michigan State University.
Looking ahead, Dr. Holtz is looking forward to the opportunity to participate in the 2023-24 Academic Leadership Fellowship program. She brings a compassionate perspective and a strong commitment to diversity into her research and teaching practices. During her fellowship, she aims to gain valuable insights into how the administration can effectively implement the university's strategic plan, aligned with its core values and principles.