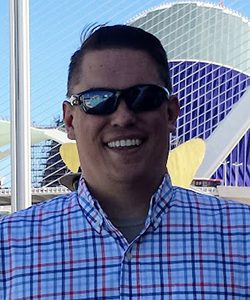 George H. Berghorn is an Assistant Professor of Construction Management in the School of Planning, Design and Construction (SDPC) at Michigan State University, and an Adjunct Assistant Professor in the MSU Department of Forestry. George was previously an organizational trainer and has taught at the community college and university levels; he currently teaches a mix of graduate and undergraduate courses in SPDC. Part of his current teaching mix includes a capstone experience for undergraduate students, which incorporates student construction management competitions into the class. Through that experience, he coached the 2017 regional 1st place team for the Associated Schools of Construction commercial project solutions competition and the 2019 and 2020 national champion teams for the National Association of Home Builders (NAHB) student competition.
His teaching was recognized with the 2018 Outstanding Junior Faculty Award from NAHB.
George's funded research included projects related to the feasibility of building deconstruction and material reuse, understanding change in the construction industry related to increasing mass timber building construction in the US, the use of salvaged lumber in manufacturing cross-laminated and glue-laminated timber, the role of construction activities in aquatic invasive species introduction and spread, building science education, and electric utility training.
He is the current advisor for the Student Builders and Contractors Association, which was recognized with the 2nd place best NAHB student chapter award for 2018 and her co-advises the MSU Alpha Chapter of Sigma Lambda Chi, the international construction management honor society. He also serves on the College of Agriculture and Natural Resources Curriculum Committee, the SPDC Diversity, Equity, and Inclusion Committee, and as the Sustainability Committee Chairman for the American Correctional Association, where he works on construction and operations issues for correctional facilities.
George earned a PhD in construction management from MSU and a Master of Environmental Studies degree from Yale University. He is a LEED Accredited Professional in Building Design and Construction and a Certified Green Professional from the NAHB. Prior to his career in higher education, George was a site superintendent and construction project manager in the US and a policy director for a statewide trade association.