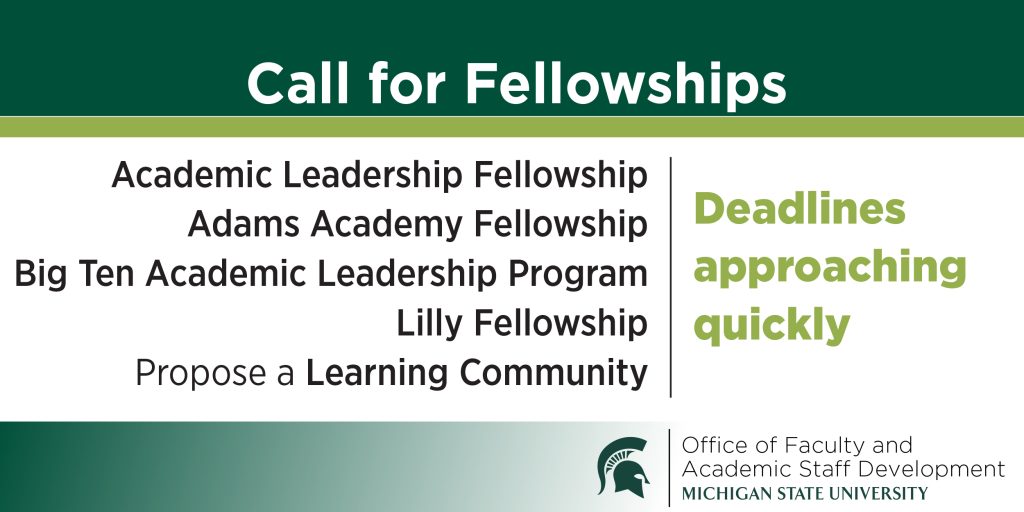 If you are interested in academic leadership or innovation in teaching and learning, the following fellowship opportunities offer extraordinary chances to learn, grow, and lead.
Academic Leadership Fellows – May 1 deadline
(Formerly AAN Leadership Fellows) This year-long experience is open to faculty and academic staff who are interested in learning about diverse leadership roles. We anticipate that approximately five fellows will be individually matched with current administrators at MSU who will serve as mentors.
Learn more about Academic Leadership Fellows
Big Ten Academic Alliance Academic Leadership Program (ALP Fellows) – May 1 deadline
The ALP is a year-long experience designed to develop leadership and managerial skills in faculty who have demonstrated exceptional ability and academic promise. Fellows have the opportunity to interact with other ALP cohorts at three seminars sponsored by the Big Ten Academic Alliance. In addition to building networks across the Big Ten, our MSU Fellows build community amongst their own cohort by attending a variety of meetings with university leaders of their choosing.
New this year, the Big Ten Academic Alliance secured a Mellon Grant to support a tenured faculty member from the humanities to participate as a Mellon Academic Leadership Fellow. Mellon Fellows will participate in the ALP in the first year of their two-year fellowship. In the second year, Mellon Fellows will complete an administrative/academic fellowship in a campus-wide office, most typically the Office of the Provost or equivalent, while also participating in additional meetings with the other Big Ten Mellon Fellows.
Learn more about the ALP Fellows
Lilly Fellows – May 1 deadline
The program is intended to advance the university's continuing efforts to support excellence in teaching and learning. The program supports a cohort of up to six faculty or academic specialists at all ranks with at least five years of service to the institution. The goal is to develop academic leaders who will guide the university into the near future with regard to learning, teaching, and educational programming. Participants are expected to focus their work on a project of their choosing that will make a substantial contribution to a unit's educational efforts. The Program also provides an opportunity for Fellows to expand relationships and collaborative engagement with peers and colleagues within their own college and across the University, and to see themselves as educational leaders and change agents. Lilly Fellowships are open to all tenure-system and fixed-term faculty, academic specialists, and librarians.
Learn more about Lilly Fellows
Adams Academy – May 1 deadline
Adams Academy Fellows explore the literature on effective university teaching and learning practices and consider how this robust body of research can be used to guide instructional decisions in the courses we teach and learning experiences we design. Participants learn from and contribute to a community of teacher-scholars committed to excellence in teaching and learning in its various settings. Applicants must plan to teach one or more courses or have other instructional responsibilities during their participation in the Academy.
Learn more about Adams Academy
Learning Communities – May 1 deadline
Learning Communities provide safe and supportive spaces for complicated conversations about curriculum, pedagogy, leadership and administrative issues. Michigan State University has supported these initiatives since 2004 and continues to do so through funding administered by the Office of Faculty and Academic Staff Development.
Learning Communities at MSU are free to propose their own topics and determine the structures that best support their inquiries. Accordingly, communities tend to vary greatly in their practices, interests, and agendas.  However, all communities share three things in common: they meet at least eight times across the academic year, explore important educational themes, and welcome all members of MSU's instructional and administrative staff, regardless of appointment type, rank, or discipline.
Learn More about Learning Communities
Questions regarding the 2023-24 Fellow Cohorts should be sent to the Office of Faculty and Academic Staff Development.