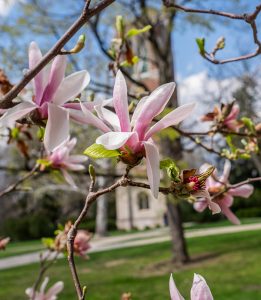 "It's been a long year." How many times have we said this to ourselves, to our colleagues, to our students, to our families…? There's no denying it! And yet, as the academic year draws to a close, as graduations are upon us, and as spring is taking hold, we can also pause for a moment, and say, "Wow! Look at all we have learned and done this year!" Not that it all was on our annual goal statements or professional development plans, not that it all went as anticipated if it went at all, not that those frequent flyer miles or vacation reservations are not still on hold, but we still made it and learned so much along the way.
So, what have we learned that is worth celebrating?
Working virtually is not the same as being able to walk down the hall and greet colleagues or stick your head in the office to ask a quick question. Communication and connecting to others have needed to be far more intentional. And we've done it. Often, we've been able to engage a bit more because it really was just about finding the Zoom link or clicking on Teams rather than scouting out a parking place right as classes were changing on campus. We could hop on to an 8:00 a.m. call still in sweatpants rather than having to leave the house much sooner for a commute to campus in whatever work attire meant. We learned that 55-minute meetings to allow time away from the computer were ok. We reconsidered whether meetings were always even necessary to get things done. We had to learn to unmute to talk, but perhaps also learned to listen more because we couldn't just jump in on top of someone else's comments without thinking.
We learned that wellness issues manifest in many different ways for many different reasons, and that self-care is not always on the top of anyone's list of things to do each day but should be. We had to learn to be comfortable in our surroundings whether with the aspirational background of a favorite place or the reality of our basements and kitchen tables with cats, dogs, and children also present. Those who have taught or enrolled in our online classes or worked with colleagues at a distance have been living this way for a long-time pre-pandemic, and the rest of us just had to catch up experiencing the positive and challenging aspects of this learning space.
Did we do it?
Yes! Did we always like it? Probably not. Yet, as we go forward into the next iteration of "normal" in the fall there likely will be times when we look back on this year with more gratitude for what resulted from the forced choices, and perhaps many will make similar choices about work-life going forward.
We have realized that each of us has shared some big picture commonalities over the last year but also had distinct experiences that need equitable support personally and professionally. Somehow, we will build upon the strengths we found in ourselves and in each other this year, as well as the humanity, respect, and care we brought to the fore to help each other through. And as a result, as an institution, we will hopefully be able to move forward into the new opportunities ahead and bring our diverse talents together to build a new inclusive MSU table at which members have a voice – virtually, in hybrid format, or in person.
While every step forward does not clearly show us where we will end up. If we take all we have learned in this past year+, there is no doubt that we will be a better university still working to make a difference locally and globally, but with a newfound understanding of who we are and the contributions each can make.