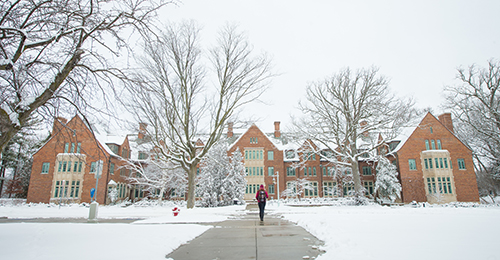 Diversity, equity, inclusion. Three words that get used a lot, sometimes with great intention and sometimes almost casually, as if their meaning is commonly understood by all. Throughout the last several months, the Diversity, Equity, and Inclusion Task Force has worked to do a "deep dive" into ways in which we might collectively improve the culture, policies, and practices that will support these values and help each of us to see our part in enacting diverse, equitable, and inclusive actions in all aspects of our work. Their work highlighted numerous existing programs, groups, practices, and opportunities in which you may have already participated, including signing up for this spring's Diversity Dialogues Training offered by the Office of Inclusion or attending the Building a Respectful Work Environment series in the fall that will continue to offer new sessions this spring.
You may be planning to attend the Outreach and Engagement or the Resource Center for Persons with Disability (RCPD) Awards, which recognize those who strive to increase equity and inclusion in different ways, and who represent steps taken towards making these works ring authentically true throughout the MSU community and beyond its borders. If you are teaching, you likely have spent considerable time trying to build respectful communities and inclusive classrooms where instruction is accessible and supportive of all our learners, relying on the insights of colleagues or opportunities offered through the Hub and #iteachmu. You may also be part of an annual review committee, finding ways to equitably review the files of colleagues navigating the impact of the pandemic on their work and lives in so many dimensions especially when we know that there have been differential effects on members of our community.
As we move through this period together, we might want to just push aside the challenges we have faced and "turn the corner" on a post-pandemic "return to normal." Perhaps. But we have also learned that our past may not have fully represented the lived meaning of the three tenets the university espouses for all. With the guidance of so many dedicated leaders with and without titles of authority to walk with us, the future may be more fulfilling when we take lessons from these last months [and years]. This is an opportunity to build new ways of working with each other that more truly reflect the safe, welcoming, and inclusive campus for all. Even with much yet to do, and perhaps never really done, we can look to some examples of living these values included in this newsletter.