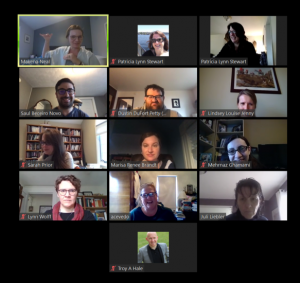 By Patti Stewart
Typically, at this time of year, we would be celebrating a number of milestones, such as graduations and other important life events. Considering the implications of the global pandemic we're experiencing, we've all had to pivot these acknowledgments into alternative spaces or postpone them until future gatherings are possible. Given this, I would like to take this opportunity to bring attention to the AAN Instructional Fellowships.
The Adams Academy and Lilly Fellowships are designed to be spaces that celebrate excellence in teaching and evidence-based, reflective instruction. Each year, the cohort brings together scholars across disciplines to explore topics such as Curriculum Design, Diversity and Inclusive Pedagogy, Connections with Students, Learning Assessment, and Change Agency. These fellows are often (and continue to be) influential leaders who positively impact the educational experience of students across the institution.
In recognition of the wonderful work of our fellows who have spent the last year delving into these deeper issues of teaching and learning, this article celebrates their contributions to the institution and the impact they continue to make on our students. It has been my great honor to work with these scholars since last fall, and I have benefited both personally and professionally from the opportunity to hear their thoughtful insights on teaching and best practices in all areas of learning and student success.
Please join me in honoring this year's fellows. (The link on their name connects to see more of each fellow's work when available.)
Walter & Pauline Adams Academy of Instructional Excellence and Innovation, 2019-2020
Denise Acevedo – Assistant Professor, Arts and Letters
Marisa Brandt – Academic Specialist, Lyman Briggs
Mehrnaz Ghamami – Assistant Professor, Engineering
Ricardo Guimaraes – Academic Specialist, Communication Arts and Sciences
Lindsey Jenny – Assistant Professor, Human Medicine
Troy Hale – Professor of Practice/Senior Specialist, Journalism
Juli Liebler        – Assistant Professor, Social Science
Saul Beceiro-Novo – Assistant Professor, Natural Science
Dustin DuFort Petty – Academic Advisor, Agriculture and Natural Resources
Sarah Prior – Assistant Professor, Social Science
Marty Spranger – Assistant Professor, Natural Science
Lilly Teaching Fellow, 2019-2020