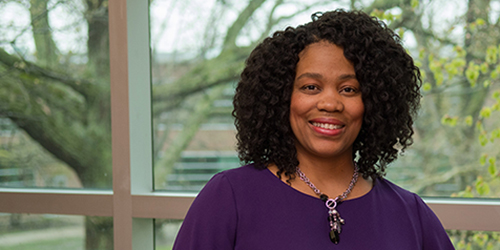 By Gregory Teachout
When Dr. Dorinda Carter Andrews came to Michigan State University in 2005, she was immersed in her work as an assistant professor. While her research, which focuses on issues of racial justice and discrimination in schools, remains a passion, Dr. Carter Andrews has taken on many new responsibilities at MSU in the years since. As both a Lilly Fellow and an Academic Leadership Program (ALP) Fellow, she has made full use of the Academic Advancement Network's offerings for aspiring academic leaders. In May 2019, Dr. Carter Andrews assumed the role of chairperson of the department of teacher education, which U.S. News and World Report has ranked the number one program of its kind in the country for twenty-five consecutive years. 
Exploring Opportunities 
The Lilly Fellowship was Dr. Carter Andrews' first entree into leadership programs at the university. Her years as a Lilly Fellow allowed her to do research on her own teaching with a small community of faculty on campus who had similar aims. After getting tenure, Dr. Carter Andrews was reflecting on her work and began to consider opportunities beyond research, teaching, and service. A colleague suggested the Big Ten Academic Alliance Academic Leadership Program (ALP).
"It gave me a sense of what administrators around campus do and allowed me to see that this is a journey that I might want to take," says Dr. Carter Andrews. She was accepted and participated in the program as part of the 2016-2017 ALP cohort. 
"It was a great experience, learning what administrators do and being able to ask questions about which roles might be right for my future. It helped me to parse out pathways I might be interested in."
Dr. Carter Andrews credits much of her orientation to leadership to the ALP, and its focus on exposing Fellows to a spectrum of roles and opportunities at MSU; just as crucially, ALP partners with other universities to allow Fellows the broadest insight possible. 
"ALP allows you to visit three other institutions and hear their administrators talk," says Dorinda Carter Andrews. "ALP cultivates and trains you to think about skill sets so you can see firsthand what goes into being an associate dean, a dean, directing a center, or becoming a department chair. I found that program really useful." 
New Roles
Dr. Carter Andrews was the college's first associate dean for equity and inclusion. The former provost had encouraged deans to create an administrator role for DEI; when the college of education was looking at qualified people to fill that role, Dorinda Carter Andrews was a natural choice. Once again, she credits her leadership training with fomenting a mindset that was conducive to leadership, as well as giving her some of the practical skills associated with academic administration.
"There were other things I wanted to do while maintaining my teaching, research, and service duties. I went to the dean and said, 'I think this is something I could do. It aligns with my scholarship.' My ALP experience allowed me to know what I was stepping into a little bit. I knew that If I ever wanted to be a dean, or provost, or college president, this is the kind of work experience I need." 
Leading as a Chairperson
After a national search, Dr. Carter Andrews was offered the role, which she gladly accepted. As chairperson of the teacher education department, Dr. Carter Andrews oversees about ninety faculty and staff. Her work as a Lilly and ALP Fellow, as well as her time as a diversity consultant on the AAN advisory board, was the perfect practicum to ready her for leading a department the size of some colleges. 
Leading such a large staff carries inherent challenges. Even the most talented scholars can be overwhelmed when they first take on a role of such import. New administrators at Dr. Carter Andrews' level must quickly learn to negotiate an array of new responsibilities, ranging across budgeting, HR, and union policies. Even resource allocation can be more complicated than it first appears.
"Your valued colleagues make requests for resources, and on a relational level, you want to provide that," says Dr. Carter Andrews. "But you have to think about resource allocation. I'm not always at liberty to do what my heart would want to do relationally. I have to think from an organizational perspective. Those are skills I've learned through AAN programming." 
Reflecting on Experiences
While many of the skills Dr. Carter Andrews has accumulated during her years as a Fellow and a leader are practical, some of those she values most are intangible. 
"The camaraderie and collegiality amongst the five of us Fellows who were in a cohort together is priceless," she says. "We still make sure we have lunch together once a semester. I think that's a great byproduct of the program. There's this social cohesiveness that endures. We can share strategies and best practices about leadership. It's really been useful." 
Dr. Carter Andrews has found similar benefits in AAN's luncheons for women department chairs on campus. "I appreciate that the university has created a space for us to talk about our experiences in leadership, the differences, and commonalities," she says.
Resources for All Academics
Of course, academics at all stages and career classifications can benefit from AAN resources, and that is what Dr. Carter Andrews cites as her favorite aspect of the Network.
"I appreciate its diverse focus," she says. "There's professional development for academic staff as well. It's not just a focus on tenure track people. Oftentimes in university settings, cultivation of leadership and professional development is centered around tenure-stream faculty, so I appreciate that AAN tries to diversify its portfolio in terms of who they talk about developing as leaders." 
When asked what sets MSU's top-ranked teacher education department apart, Dr. Carter Andrews is quick to praise the faculty.  "In many of our fields, we are the people being cited. We are the people called to speak to policy problems, help school leaders, and practitioners. We bring good people here. Sometimes they stay for their entire careers. Besides the faculty's research and scholarship, there's the curriculum we provide. Many of our programs are top ten or top five. We provide curricula to students that are cutting edge. It's innovative, and it resonates." 
Explore opportunities with AAN