At the April 19  Retirees' Luncheon for Faculty, Academic Staff, and Executive Managers hosted by the Provost, three distinguished faculty emeriti and one academic unit were recognized by the Faculty Emeriti Association for outstanding contributions to the university community.
The Awards and Awardees
Outstanding Contributions by an Academic or Support Unit for Creating Opportunities for Faculty Emeriti: AgeAlive: An Initiative to Advance Lifelong Wellness and Quality of Life with Particular Attention to Seniors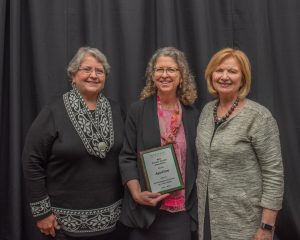 (Pictured: Barbara Sawyer-Koch, Clare Luz, Provost June Youatt)
AgeAlive has become a vital force at MSU in a short time. It seeks to enhance the University's relationship with and support for older citizens, including retired MSU faculty and staff members. It is housed in Family and Community Medicine in the College of Osteopathic Medicine under the leadership of Dr. Clare Luz with additional support from the MSU Worklife Office. It emerged from a grassroots effort to coordinate and develop synergy among the many research, educational and service initiatives at MSU related to aging and older populations. The AgeAlive initiative provides support and attention to holistic principles of general health, intergenerational experiences and community engaged partnerships. This is of particular importance as the population of Michigan, and nation, ages and faces the challenges of a new and changing living environment. The AgeAlive initiative's major achievements to date include creation of an age assets database and general communication of information via websites, list serves, newsletters and annual forums. A key achievement has been becoming part of Age Friendly University (AFU). The AFU is a global network of institutions of higher education that have endorsed the 10 AFU principles and committed themselves to becoming more age friendly in their programs and policies. MSU is an example to its Big Ten colleagues as being on the forefront of Age Alive initiatives within this group of major research universities. The AgeAlive initiative calls attention to five priority areas as dimensions of key cross cutting goals and has aspects of connectivity in an age friendly University: caregiving, retirement pathways, life enrichment, intergenerational experience and community outreach and engagement. This FEA award recognizes the range of programs AgeAlive has underway and the future potential of its dedication to making MSU an age friendly university.
"AgeAlive started as a grassroots effort to catalogue and connect all aging-related initiatives at MSU, and is now a resource for the entire university. Its vision is for MSU to be an Age-Friendly University promoting dignity and wellbeing for all persons, regardless of age, through intergenerational and life enrichment experiences, help for caregivers, meaningful retirement pathways, and community partnerships," said Clare Luz, PhD, AgeAlive Director, College of Osteopathic Medicine. "Such goals reflect MSU's land grant values, a commitment to students entering an aging world, and benefit all of us personally and collectively. To quote Roger Baldwin, PhD, MSU Emeritus,'MSU is a stronger, more progressive, and more humane institution because of AgeAlive.' We are grateful for this recognition."
Leadership Award for Outstanding Contributions in Support of Faculty Emeriti: John Forsyth
For his outstanding contributions to faculty emeriti, the Faculty Emeriti Association (FEA), and Michigan State University, the FEA Leadership Award is presented to Dr. John Forsyth. Dr. Forsyth has been a member of the FEA steering committee since its inception in 2004 and has continuously served as the Secretary/Treasurer. John Forsyth has also taken on the role of directing the communications of the FEA. John takes care of email outreach regarding upcoming events and answering inquiries about the FEA. As a faculty member from Computer Science and Engineering, John has been an asset in keeping the website (www.facultyemeriti.msu.edu) up to date with upcoming events, meeting minutes, FEA Bylaws, recognition awards, volunteer opportunities, and the oral history project. His expertise related to IT issues and his perseverance to find solutions, continue to keep the FEA moving forward. John is respected by his colleagues due to his formidable contributions coupled with his demeanor which exhibits a well relaxed manner. He is a very intelligent individual realizing the importance of compromise in discussions involving both sides of an issue. The FEA, especially the steering committee, are blessed to have John since he is an asset to both groups. His success as an officer and administrator on the FEA Steering Committee is only one sterling example of his notable MSU career and why he is deserving of the award.
Outstanding Contributions by an Individual Faculty Emeritus/Emerita: Roger Baldwin and Barbara B. Sears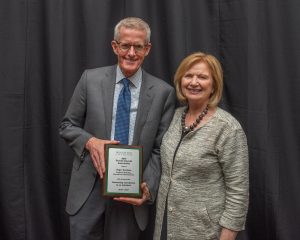 Dr. Roger Baldwin officially retired in 2017 and remains very active in the MSU community, using his expertise concerning academic work and faculty careers to make extensive and meaningful contributions. More recently, he has used his research abilities to focus on aspects of academic retirement and the experiences of emeritus faculty. Dr. Baldwin stays connected to his college by serving on dissertation committees in the Higher, Adult, and Lifelong Education Program (HALE) and participating in a speaker series hosted by the Center for Higher and Adult Education in the College of Education.
"Dr. Roger Baldwin is the perfect recipient of the Award for Outstanding Contributions by an Individual Faculty Emeritus. He has a distinguished record of research on dimensions and stages of the academic career, including the later and emeritus stages,"said Ann Austin, Associate Dean, College of Education. "Over the last several years, he has used his extensive insights in service to helping MSU support senior and emeritus academic staff in creative ways that enrich the individual colleagues and the university overall."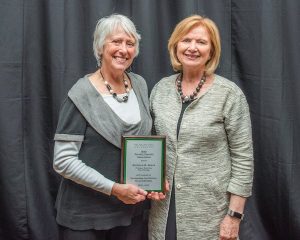 Dr. Barbara Sears retired in 2013 from the College of Natural Science. Prior to retirement, she collaborated with Dr. Christoph Benning, Director of the MSU-DOE Research Lab on the molecular biology and genetics of the green algal model, Chlamydomonas reinhardtii. This collaboration has continued and intensified in her "retirement." Her intellectual contributions to the algae-focused projects have been invaluable according to Dr. Benning as she is recognized as the "undisputed expert at MSU on the topic of meiotic viability of certain mutants of Chlamydomonas reinhardtii." These mutants affect cell cycle regulation relevant to the control of oil biosynthesis in this alga and have become essential biological tools for our research designed to understand oil synthesis as well as the function of membrane lipids in photosynthesis of microalgae.
About the Nomination Process
AAN collaborates with the Faculty Emeriti Association each February to send a message to deans, directors, chairs, and executive managers to solicit nominations of outstanding contributions by an individual faculty emeritus/emerita, and an academic or support unit that creates opportunities for faculty emeriti. Periodically, the FEA recognizes a member of the association whose leadership has had a profound effect on the university and the association. This year, awards went to two individual faculty emeriti, one unit, and one FEA member for their leadership.