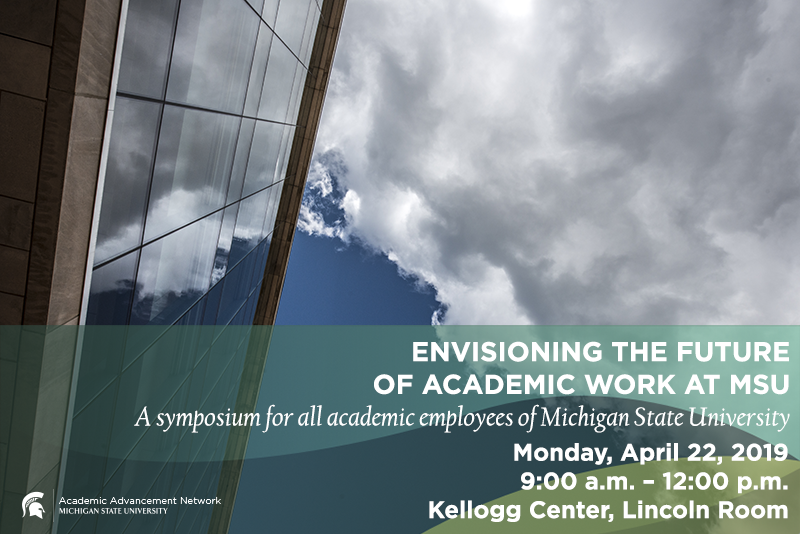 Envisioning the Future of Academic Work at MSU
Date: April 22, 2019
Time: 9:00 a.m. – 12:00 p.m.
Location: Kellogg Center, Lincoln Room
The Academic Advancement Network (AAN) hosts a symposium each spring on a topic of importance for higher education in general and MSU in particular. Ideas raised during the event help to frame AAN programming for the following academic year.
The 2019 symposium focused on "Envisioning the Future of Academic Work at MSU." It featured a keynote address by Dr. Jaime Lester, interim director and professor of the Higher Education Program at George Mason University and, via a panel and breakout sessions, encouraged forward looking conversation among MSU academic employees of all appointment types and career stages.
Program Agenda
8:30 a.m.
Registration
9:00 a.m.
Welcome

Ann Austin, Associate Dean for Research, College of Education and Assistant Provost for Faculty Development – Academic Career Paths, Academic Advancement Network

9:15 a.m.
Leading in Place: Engaging Cultural Values to Promote Positive Change 

Jaime Lester, Interim Director and Professor of the Higher Education Program, George Mason University

10:00 a.m.
Panel Discussion Moderated by Juli Wade, Associate Provost for Faculty and Academic Staff Development, Academic Advancement Network

Kate Birdsall, Assistant Professor, Writing, Rhetoric, and American Cultures
Andrew Christlieb, Chair, Computational Mathematics, Science and Engineering
Dwight Handspike, Senior Associate Director and Advising Academic Specialist, Undergraduate Academic Services, Broad College of Business
Deborah Johnson, Professor, Human Development and Family Studies, and Director, Diversity Research Network
Chris Long, Dean, College of Arts and Letters

10:45 a.m.
Introduction to Breakout Sessions

Jeff Grabill, Associate Provost for Teaching, Learning, and Technology and Director of the Hub for Innovation in Learning and Technology

10:50 a.m.
Break
11:00 a.m.
Breakout Sessions
11:45 a.m.
Reporting Back and Closing

Jeff Grabill, Associate Provost for Teaching, Learning, and Technology and Director of the Hub for Innovation in Learning and Technology
Accessible Agenda (PDF)
Breakout Sessions
Generous vs. Competitive Thinking in the Academic Environment
Facilitated by Kathleen Fitzpatrick, Professor and Director of Digital Humanities, College of Arts and Letters (Willy Room)
Creating Community Norms for a Safe, Caring, and Inclusive Academic Environment
Facilitated by Cheryl Sisk, Associate Dean, College of Natural Science and Bill Hart-Davidson, Associate Dean, College of Arts and Letters (Room 110)
Achieving Equity and Voice in Academic Leadership
Facilitated by Paulette Granberry Russell, Senior Advisor to the President for Diversity and Director, Office for Inclusion and Intercultural Initiatives, and Sonja Fritzsche, Associate Dean, College of Arts and Letters (Room B106)
Continuing the Conversation
Facilitated by Jaime Lester, Interim Director and Professor of the Higher Education Program, George Mason University (Lincoln Room)
Co-Sponsors