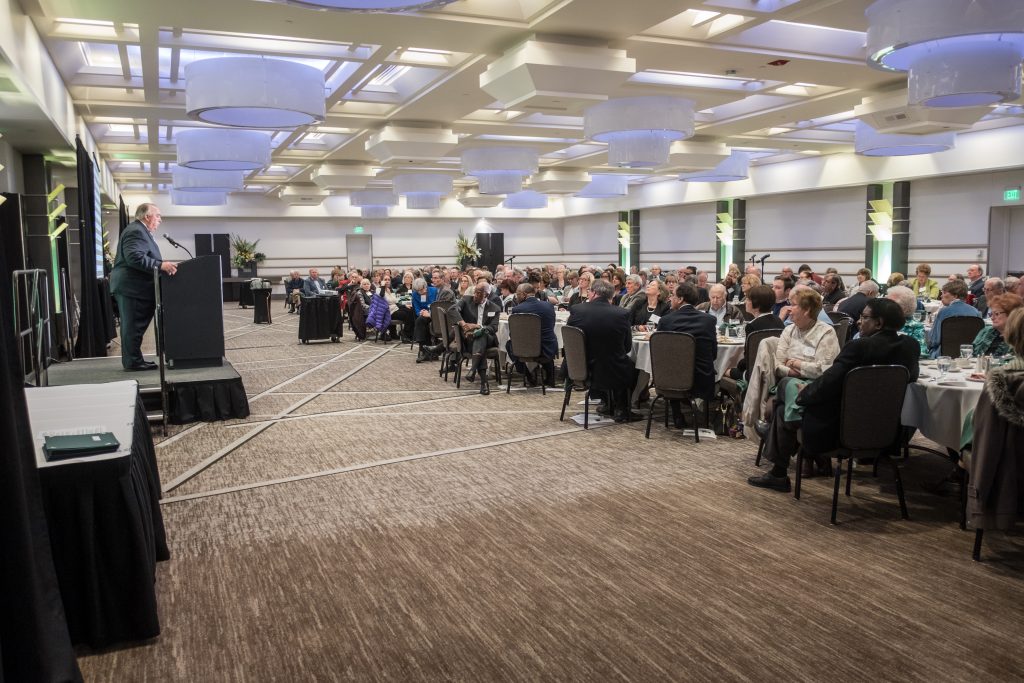 At the April 3 Retirees' Luncheon for Faculty, Academic Staff, and Executive Managers hosted by the Provost, three distinguished faculty emeriti and one academic unit were recognized by the Faculty Emeriti Association for outstanding contributions to the university community.
The Awards and Awardees
Outstanding Contributions by an Academic or Support Unit for Creating Opportunities for Faculty Emeriti: Department of Forestry within the College of Agriculture and Natural Resources
The Department of Forestry consciously seeks to create and maintain a welcoming environment for everyone including emeriti. Emeriti faculty are assigned office space and are provided administrative support as long as they continue to be engaged in the department's mission and community. These investments have realized large returns; in recent years, several department emeriti (Donald Dickman and James Kielbaso) were awarded the FEA award for Outstanding Contributions by an Individual Faculty Emeritus. Another department faculty emerita, Maureen McDonough, has linked the department with talented high school students in Detroit, who participate in Greening of Detroit, a non-profit focused on urban tree planting and care, which has led to department and university enrollment of students from the program.
Leadership Award for Outstanding Contributions in Support of Faculty Emeriti: Pauline Adams
From 2006 until she resigned in 2017, Pauline Adams had a distinguished career as a Faculty Emeriti Association Steering Committee member, representing the committee at Board of Trustees meetings. Her leadership continued with the Oral History Project, involving conducting seventeen interviews with MSU faculty and non-faculty including former President Cecil Mackey. The result is a treasure trove of information found in the Oral History archives of the MSU Library. 
The AAN Adams Academy is named after Pauline and her late husband, Walter.
Outstanding Contributions by an Individual Faculty Emeritus/Emerita: Robert Herner and Jan D. Krehbiel
Robert Herner officially retired from the Department of Horticulture in 2001. After leading an internationally respected research program in post-harvest physiology and ethylene biology, he chose to remain deeply involved in the department but in a somewhat different yet impactful direction. He saw the needs of students and alumni that regular faculty did not have time to address. He turned those insights into meaningful action and developed a network of alumni as a way to maintain strong connections among each other and to their alma mater, and has also provided teaching support. Current professors state that "it is overwhelmingly clear that long after he retired, Dr. Herner has played an integral, generous and inspiring role in the Department of Horticulture, creating new opportunities and venues for our students and alumni.  No one has greater commitment to and love for the department and MSU."
Janver (Jan) D. Krehbiel retired from the College of Veterinary Medicine (CVM) more than 10 years ago, yet his impact on the college has been continuous and significant. Since 2007 he has mentored Doctor of Veterinary Medicine (DVM) students and recent graduates, as well as deans, associate deans and assistant deans. Dr. Krehbiel continues to be an active participant in doctoral curriculum review and revision, advising the college on accreditation issues.  He has chaired search committees for the integral leadership positions within the college and continues to participate in interviews for applicants to the DVM program. Dr. Krehbiel's interactions go beyond the college. He was instrumental in linking the college's Office of Diversity and Inclusion with the Edgewood Village Network Center in East Lansing as part of a National Institute of Health Grant aimed to advance science and math educational experiences of K-4 students. Students from the college mentor and deliver innovative curriculum with the ultimate aim of diversifying the veterinarian-scientist workforce. He also remains very active in the American Veterinary Medical Association.
About the Nomination Process
AAN collaborates with the Faculty Emeriti Association each February and sends a message to deans, directors, chairs, and executive managers to solicit nominations of outstanding contributions by an individual faculty emeritus/emerita, and an academic or support unit that creates opportunities for faculty emeriti. Periodically, the FEA recognizes a member of the association whose leadership has had a profound effect on the university and the association. This year, awards went to two individual faculty emeriti, one unit, and one FEA member for their leadership.