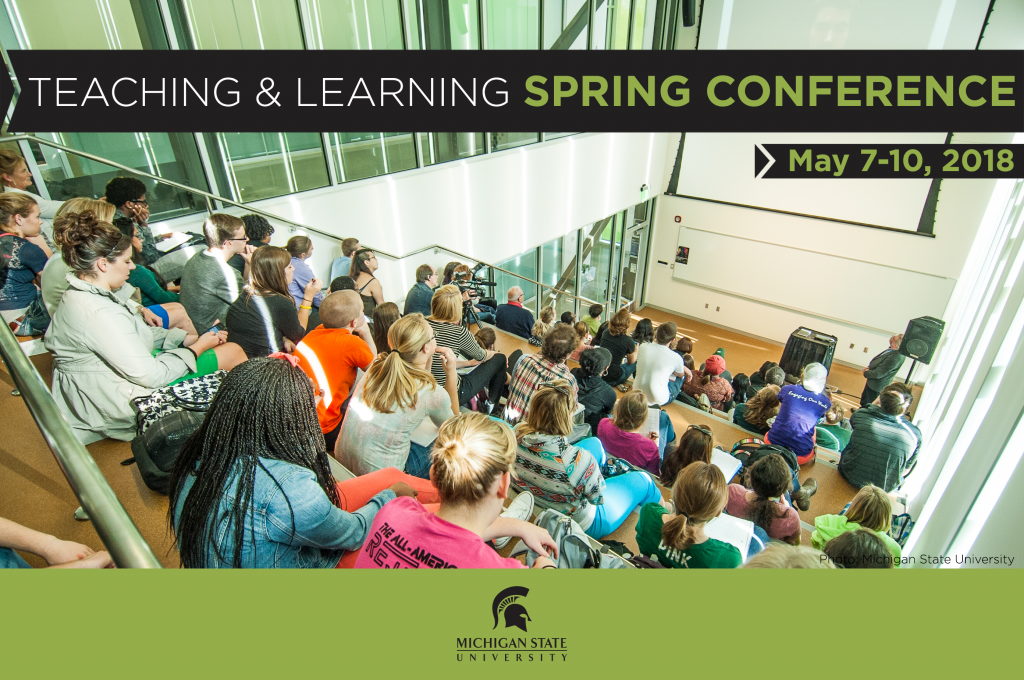 On a campus as large as ours, there is always something interesting happening. Traditionally, the week between spring and summer semesters tends to be the most ideal time to offer programs for instructors that focus on professional and instructional development. Numerous units across campus take advantage of this window and offer multiple opportunities resulting in participants having to choose one program over another.
Spring 2017 marked the inaugural year for these units to come together and collectively develop the MSU Teaching and Learning Spring Conference. By partnering to offer a spring conference, participants are able to choose from a variety of programs that meet their needs and interests all in one place. It is an excellent opportunity to build community on a larger scale. From an institutional perspective, by sharing the planning and expense of a larger, more unified program, redundancy is avoided and both personnel and financial resources are managed more effectively.
Last spring's event, open to all academics, staff, and graduate students interested in teaching, welcomed over 200 participants. We accepted over 60 proposals for presentations and sessions over two days and offered workshops for new instructors to prepare them for teaching at MSU. The planning committee was comprised of dedicated individuals from, and supported by, the Academic Advancement Network, IT Services Teaching and Learning, the Hub for Innovation in Learning and Technology, the Office for Inclusion and Intercultural Initiatives, the Graduate School, MSU Libraries, and the Office of the Associate Provost for Undergraduate Education. The feedback we received from participants last year was tremendous. Many reinforced that the timing and collaboration was greatly appreciated, while others provided valuable feedback that we are implementing for this coming year.
The 2018 conference will be a week-long event that provides instructional and career development, with an underlying theme of enhanced student learning and success. The conference will again accommodate several types of sessions including presentations, hands-on workshops and roundtable discussions.  The learning communities will again display posters documenting and sharing their year-long efforts. The Lilly Teaching Fellows and the Adams Academy cohorts will also be joining them this year to showcase their important work. The conference will run from May 7 – 11, 2018 and take place in Wells Hall and the MSU Main Library.
The proposed schedule is as follows:
Monday, May 7: Quick Start to Teaching for Student Success: Key MSU Policies
Tuesday, May 8: Student Success Summit and Teaching & Learning Spring Conference
Wednesday, May 9: Teaching & Learning Spring Conference
Thursday, May 10:  Teaching & Learning Spring Conference and Certification in College Teaching Institute (for graduate students)
Friday, May 11: Certification in College Teaching Institute (for graduate students)
Please consider participating in the MSU Teaching and Learning community this year by simply attending or also sharing your work. The committee will accept proposals from now until February 5, 2018 at the following Qualtrics site. Work at all levels of completion will be considered. Registration to attend the conference will open at the end of February, 2018. For more information visit http://bit.ly/2018SpringConfMSU.
If you have questions, contact the Academic Advancement Network at AAN@msu.edu.